Give a sweet and delicious gift to mom by whipping up these Strawberry Madeira Dutch Baby Pancakes. It's a cute, intimate and budget friendly way to show mom how much you care. Plus, you get to have brunch, which is the icing on the cake, or in this case, the icing on the pancake. These are dairy free and low gluten (contains light spelt flour). 
Mothers Day is definitely different this year, and although last mothers day also occurred during the start of the pandemic, this year is cooped with more restrictions and amplified safety measures to curb the sudden surge of Covid-19. Although safety always comes first, it's a little disheartening to not see my loved ones in person, and also a tad bit frustrating to start every FaceTime conversion with "how are you dealing with the new lockdown"? Or my favorite "are you getting the vaccine?"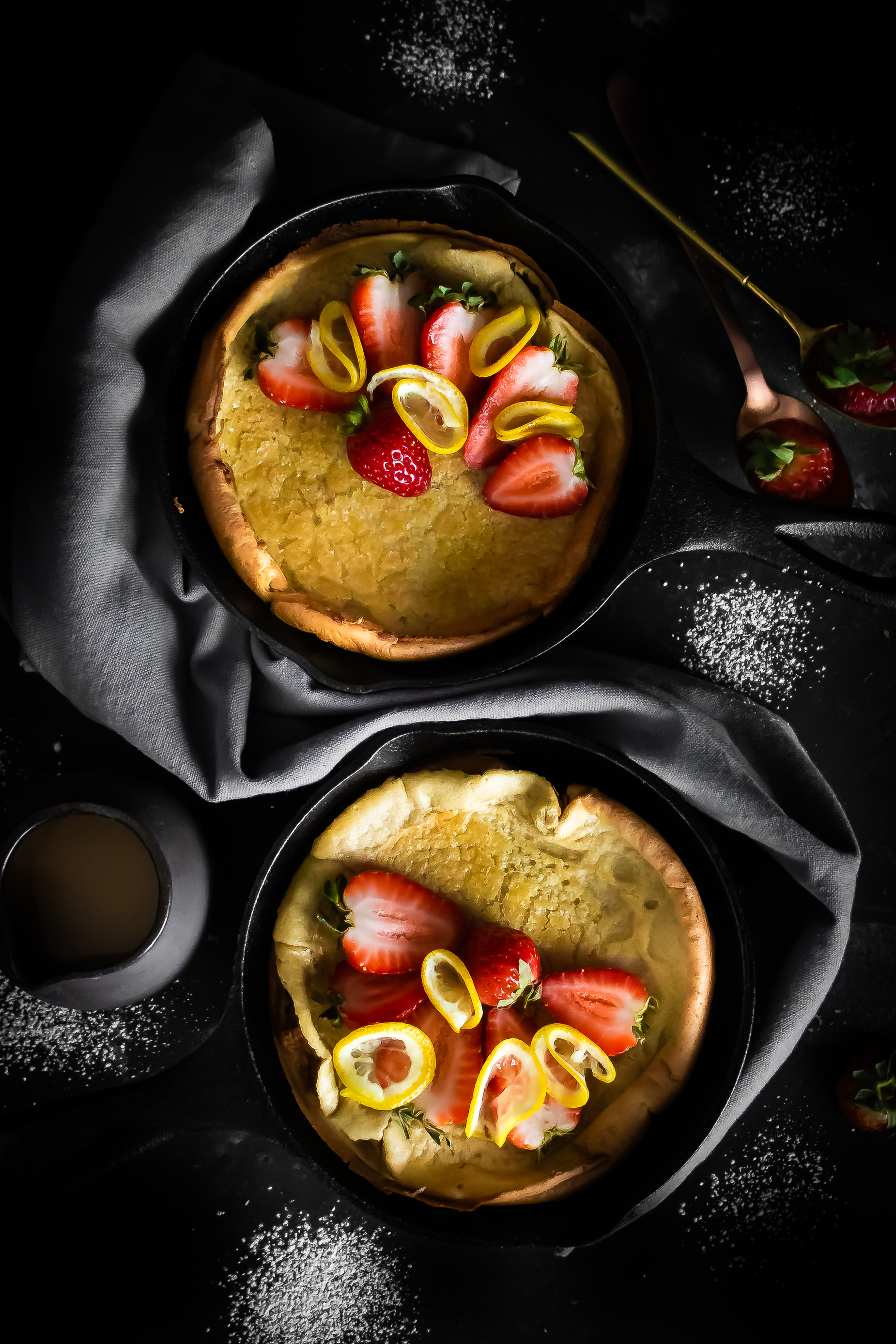 We can only do what we can to guide us through this phase, which includes prioritizing our mental and physical health and doing things that bring us joy. I started learning the guitar, which has been a marvellous escape and also a fun and productive activity to do when I have a break from working. However, if we are being truly honest, 80% of my free time involves binge watching shows on Netflix and HBO Max. 
As I said earlier, Mothers Day might be different for some, especially if you are quarantining separately. This is definitely the case for me, as my mom and myself are in two different countries. All we have is Skype, which is better than nothing! So, the plan for Mothers Day is to make these Strawberry Madeira Dutch Baby Pancakes for my mom, and "share" them with her while we have our Skype date. We'll see how that goes 😉
These Dutch Baby Pancakes are my moms favourite because I made them for her a couple of years ago for dinner when she was visiting. Yup, you heard that right, dinner. It was during the time I was working on my cookbook, so between testing recipes, photography set ups and dirty dishes, I wasn't able to plan an elegant breakfast or brunch for my mom, so I made brunch for dinner instead and it was fabulous! 
Wishing all the amazing mothers a happy Mothers Day today, tomorrow and everyday.

STRAWBERRY MADEIRA DUTCH BABY PANCAKES
Author: Valerie Azinge
Serves: 2 Servings
Ingredients
3 eggs
½ cup unsweetened almond milk
½ cup light spelt flour
1 tbsp Madeira wine
1 tbsp coconut oil
Fresh strawberries, for topping
Optional Toppings:
Lemon slices, for garnish
Monk fruit icing sugar, for topping
Coconut Whip, for topping
Instructions
Preheat the oven to 450°F and place two mini cast iron skillets, or one 9-inch cast iron skillet in the oven.
In a blender, place eggs, almond milk, spelt flour and madeira and blend until smooth.
Remove the skillet(s) from the oven and melt the coconut oil. Add the batter to the skillet if using a 9-inch or divide the batter between two mini skillets.
Bake in the oven for 15 minutes with the 9-inch skillet, or 10-12 minutes if using the mini skillets.
Top with strawberries or toppings of choice. Serve warm.