This is a paid partnership with PEI Lobster. Although I have been compensated, all opinions are my own.
With the holidays upon us, switch things up by adding lobster to your menu, with these easy and delicious Lobster Sliders with Caramelized Apples. Whether you are hosting a small family gathering or looking for something light to snack on, these sliders will be your go-to, whether you choose to make them for the holidays or all year round!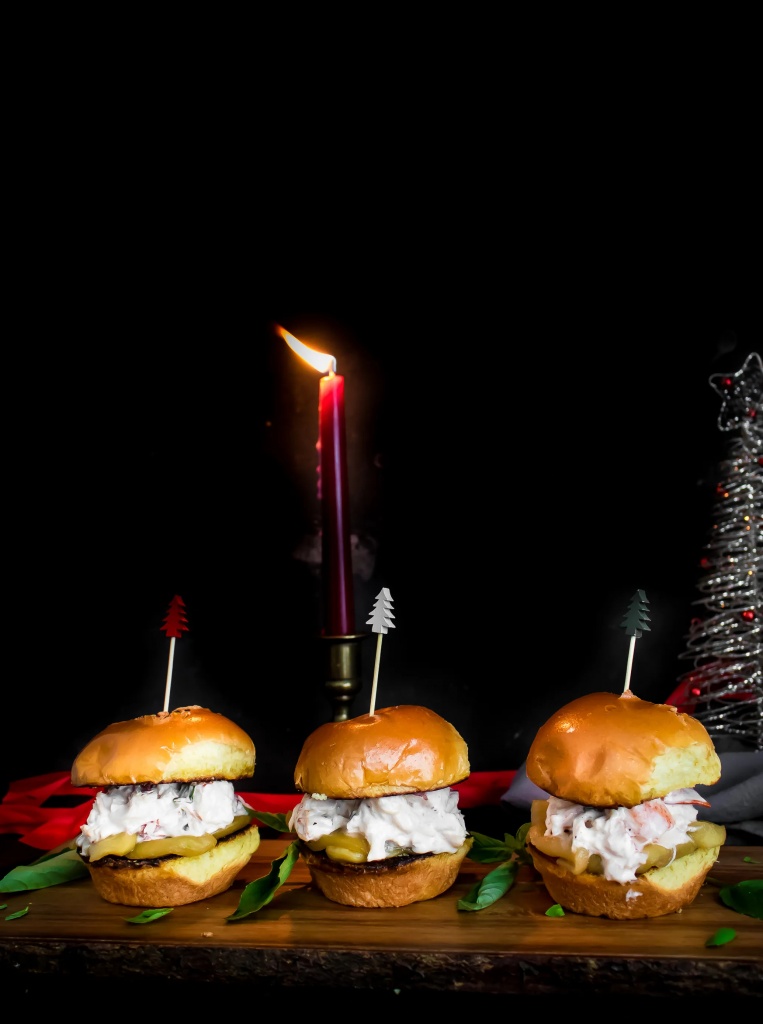 When I think of the holidays, especially Christmas day – which is by far my FAVORITE holiday of all time, I am used to the traditional go-to meals, like roasted turkey, sweet potato casseroles, ham roasts, salads, and lots of cookies and pies. However, some people (like myself) are either pescatarian, or have some dietary restrictions, which means some meatless alternatives would be preferred. Now, if you have never considered adding lobster to your holiday table, now is the time to do so, and better yet, do so by adding these Lobster Sliders with Caramelized Apples. It's so easy and so worth it.
However, you don't have to reserve these sliders just for the holidays, as they can be enjoyed all year round. Serve them up at a super-bowl party, a spring brunch, summer picnics, or even other festive occasions like Easter and thanksgiving. The versatility of these lobster sliders is what makes them so delightful.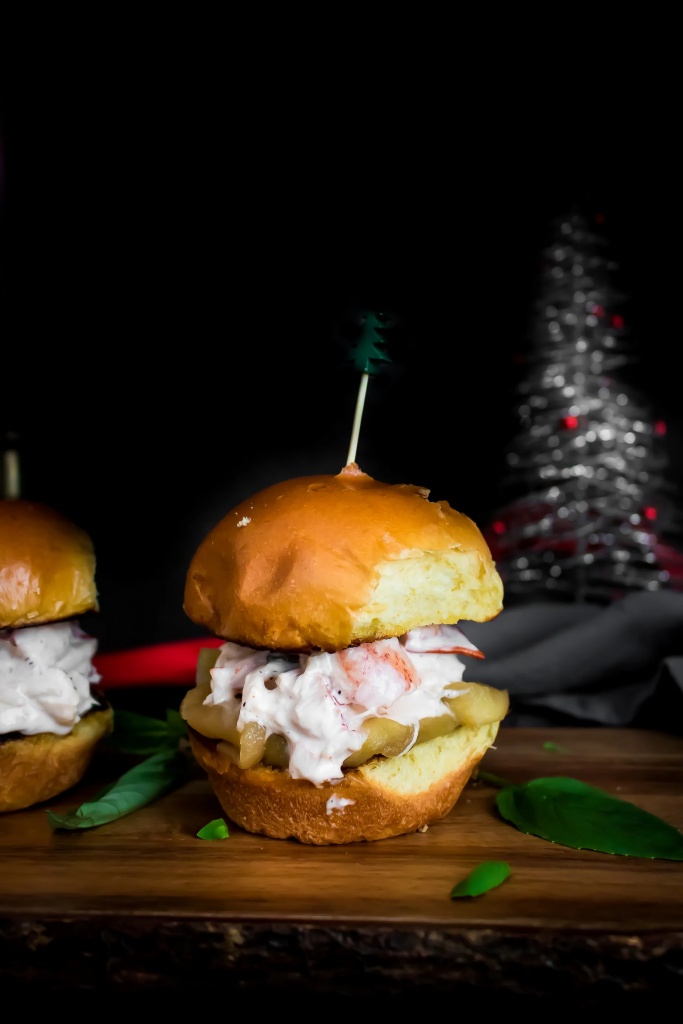 If you're familiar with lobster, then you can probably agree that there is a certain luxury added to it, which can make it quite intimidating to cook. However, lobster isn't only easy to cook and easily accessible, but its origins are actually quite humble.
For example, did you know that back in the mid 19th century, lobster was known as a poor man's meal because of the overabundance of them? And due to that, they were fed to prisoners, and eventually became a popular canned and cheap food accessible to lower income households who still needed to get their protein. Lobster meat was also used as fish bait by Native Americans, but somehow, during the years, lobster went from poverty to luxury. Well, now that you've had a brief history lesson, I'm using this holiday recipe to present lobster in its authentic, humble and nutritious origins.
Whether you live in PEI, or any other province in Canada, PEI lobster is easily accessible. You can swing by any supermarket in PEI and pick up lobster, or if you live in another province, you can order it online and have it shipped to you by priority mail. Plus, you can either order the lobster shelled, or cooked, chopped, and packaged in a vacuum sealed bag, depending on how you choose to use it. It's that easy! In addition, PEI Lobster is also very healthy and sustainable.
Now, you're probably wondering, how did this somewhat game day recipe make its way to my holiday table? Well, the story is quite interesting. Every year, I go out of town to spend Christmas with my family. We have a somewhat basic tradition, which starts with opening gifts by the tree at 8am, breakfast at 10am and Christmas dinner at 6pm. However, there's always a basketball game that my family watches which usually comes on at midday. So of course during that period between breakfast and dinner, everyone starts getting hungry, but my aunt literally won't let anyone into the kitchen because she'd be busy cooking up a large Christmas dinner that would be eaten at 6pm.
One afternoon before the game started, I came over with some leftover lobster salad, and I snuck into the kitchen to grab some sliced bread and took it to the basement where my cousins were watching the game. I actually brought it for myself to snack on, but eating in front of hungry people is never a good idea, so of course I had to share. Ever since then, we called it the "Christmas Superbowl" because we ate game day food on Christmas day. So every Christmas afternoon while watching the game, I would always make sliders to snack on before Christmas dinner. It's been a tradition ever since.
Now, I'm sharing this tradition with you, and hopefully, it inspires you to add lobster to your holiday table, knowing that you can enjoy easy, healthy and sustainable lobster with no fuss and all smiles.

LOBSTER SLIDERS WITH CARAMELIZED APPLES
Author: Valerie Azinge
Serves: 8 Servings
Ingredients

Meat from a 1½-pound cooked lobster (1¼ cups), cut into ½-inch pieces
2 tablespoons mayonnaise
2 teaspoons chili sauce
2 tablespoons crème fraîche
1 tablespoon minced shallot
1½ teaspoons minced basil leaves
1 tablespoon lemon juice
½ teaspoon finely grated lemon zest
Kosher salt and freshly ground black pepper to taste
2 green apples, peeled and sliced
2 tablespoons unsalted butter
3 tablespoons light brown sugar
Pinch of cinnamon (optional)
1 tablespoon olive oil
Eight 2-inch round soft brioche buns, split
Instructions
In a medium bowl, mix the lobster with the mayonnaise, chili, crème fraîche, shallot, basil, lemon juice and zest. Season with salt and white pepper and refrigerate until ready to use.
Cut the peeled apples into quarters, then slice each quarter into four pieces. Melt the butter over medium-high heat, then add brown sugar, followed by the apples. Toss the apples until they are caramelized, then add cinnamon. Remove from heat and set aside.
3. Brush the cut side of each roll with olive oil. Heat a large skillet over medium heat. Toast the rolls in the skillet, cut side down, until lightly golden, about 1 minute. Transfer the rolls to a work surface. Layer the bottom half of each roll with apples, then spoon about 3 tablespoons of the lobster on top. Close the sliders and serve.