If you're looking for something slightly healthier and sugar conscious to add to your cookie box, you have to add these low sugar Linzer Cookies to your baking list. Baked with whole wheat flour, filled with homemade refined sugar free blackberry jam and topped with monk fruit powdered sugar, you can still indulge in your sweet tooth while being sugar conscious this holiday season.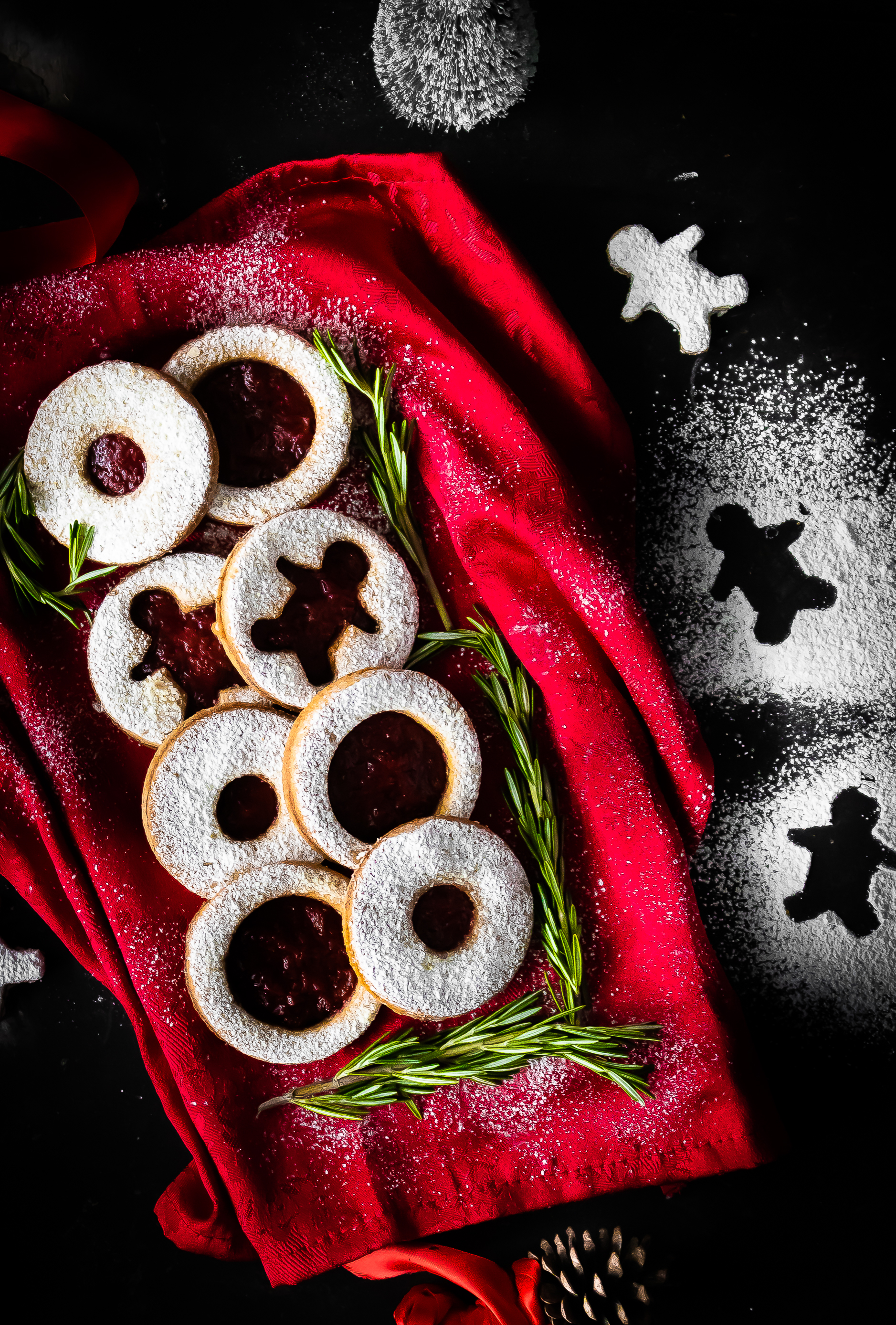 Can you believe Christmas is only 10 days away? Oh dear, where did the time go? I feel like the year just flew by, and I don't know if it feels that way because of the pandemic. Although celebrations this year will be different, my Christmas spirit is still very much alive, even though unfortunately I won't be spending it with family this year.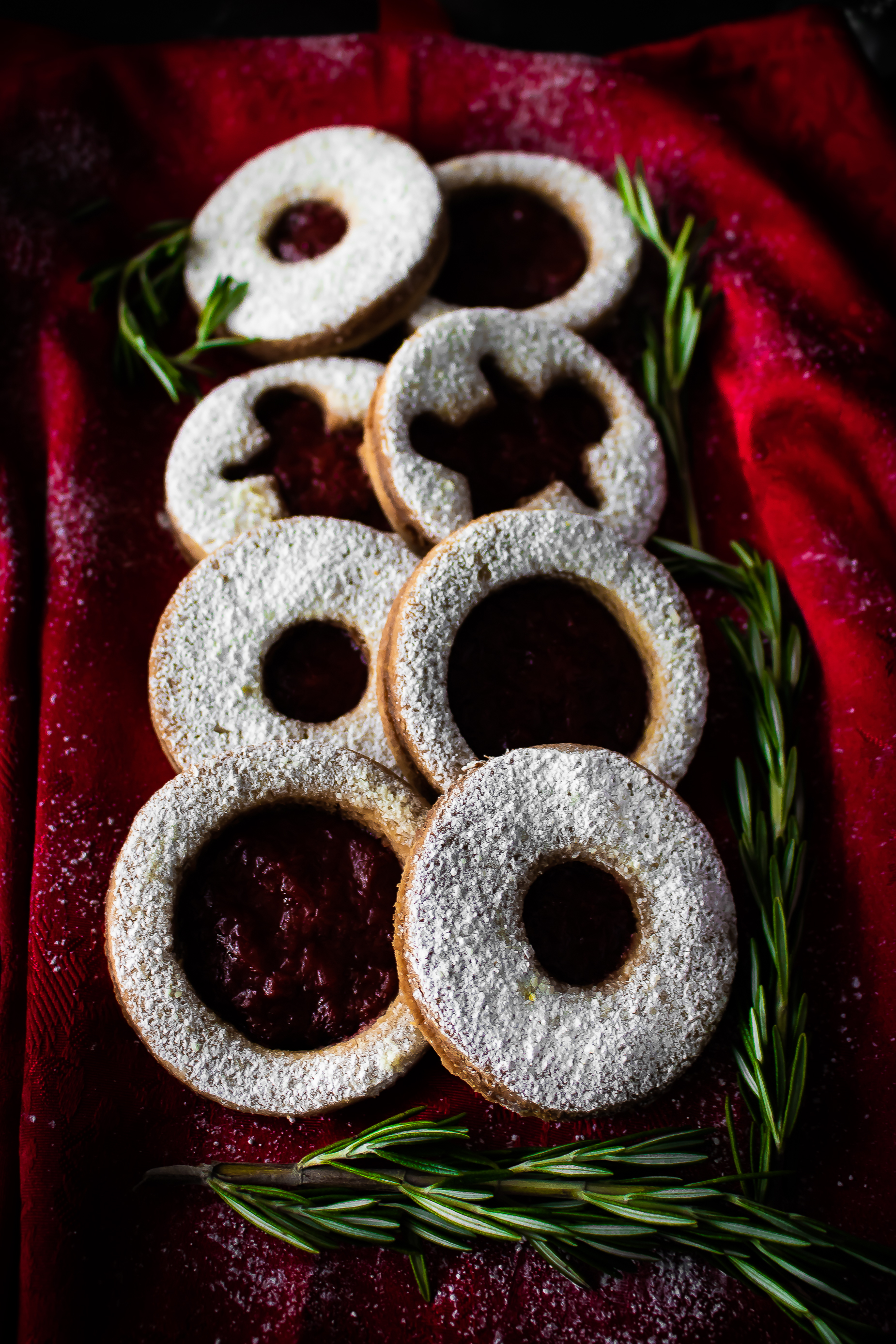 So instead, I'll be gifting these cookies along with other baked holiday treats to some of my friends and family members, because knowing how 2020 was for all of us, we could all use some holiday smiles. 
This was actually my first time baking Linzer cookies, and I must say that I was quite pleased with how these turned out, especially since I didn't have the traditional Linzer Cookie cutouts, so I had to improvise with kitchen tools I could find! Linzer cookies or "Linzerkekse" and 'Linzertorte" originated in the City of Linz, Austria in the early 1700s, and even though they are very popular around the holidays, they can also be enjoyed all year round.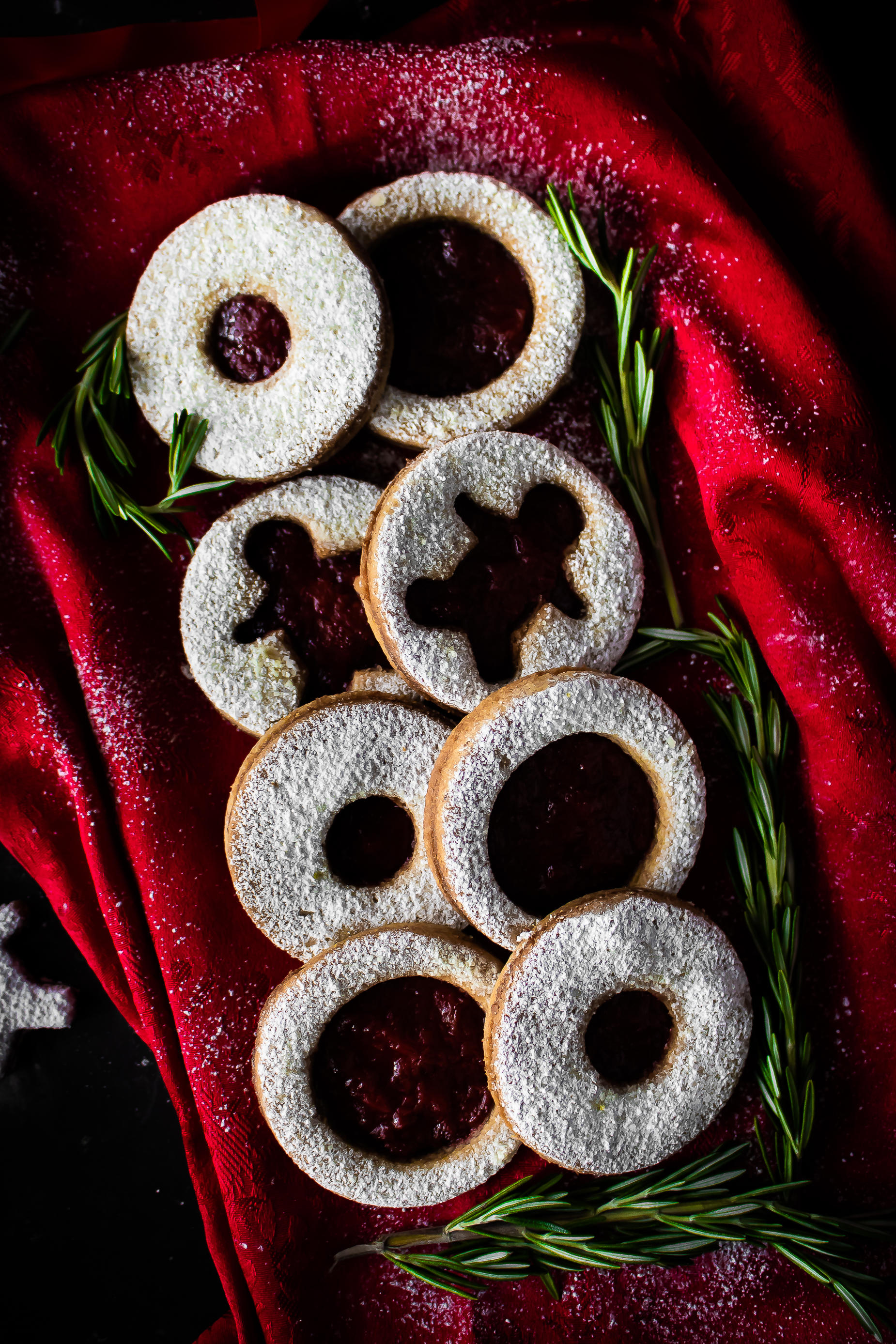 It also took me half a day to make these—not because they were time consuming, but I was having a lazy Sunday, which, well, made me extremely slow. I'm pretty confident that a lot of you can relate to this ever since being in quarantine became the new normal. 
Usually, traditional Linzer Cookies are made with flour, ground nuts (usually almonds), egg yolks, sugar, lemon zest and blackcurrant preserves or raspberry jam, then optionally topped with powdered sugar.  However, my healthier rendition uses whole wheat flour (which was a delicious risk), monk fruit sugar, organic store-bought blanched almond meal (saves time!) and my homemade sugar-free blackberry jam. 
 I think the main flavor components that stood out for me in my rendition of these Linzer Cookies were the combination of lemon zest and blanched almonds, and although those are main ingredients in traditional Linzer Cookie recipes, the combination provides an aromatic, citrusy and sweet nutty flavor. Of course, the addition of the jam or jelly seals the deal, literally! You can also get creative by using orange zest, blanched toasted hazelnuts and even swap the vanilla extract for a splash of amaretto to enhance the flavor of the almonds, while also adding a hint of apricot. 
You can also try other homemade fillings like lemon curd, chocolate spread or even dulce de leche. The possibilities are endless! No matter how you choose to make your linzer cookies, the only two goals you should aim for are to have fun, and to spread joy. 

LINZER COOKIES
Ingredients
¾ cup (1 ½ sticks) room temperature butter, unsalted
2-3 tbsp avocado oil, (or any neutral oil)
½ cup monk fruit sugar
1 tsp amaretto (or vanilla extract)
2 egg yolks
Zest of one lemon
2 cups organic whole wheat flour
1 cup blanched almond meal (store bought or homemade)
½ tsp ground cinnamon
¼ tsp kosher salt
Filling
½ cup blackberry jam
Optional topping:
⅓ cup monk fruit powdered sugar
Instructions
In a large bowl, use a stand or hand mixer and cream the butter, oil, sugar and amaretto until fluffy. Fold in egg yolks and lemon zest until incorporated, but don't over mix.
Sift in flour, almond meal, cinnamon and salt into the butter mixture. Switch to a spatula and mix the batter until a dough forms. Divide the dough into quarters (into 4), and wrap them individually with seran wrap. Refrigerate for 2 hours or overnight.
Preheat the oven to 350°F and line two baking sheets with parchment paper. Remove one piece of dough from the refrigerator at a time. Place the dough between two sheets of parchment paper and roll it out to ¼ inch thickness. Use a 3-inch cookie cutter or the rim of a drinking glass to cut out the cookies.
Place the cookie rounds on the lined baking sheet. Cut out a top for each cookie, using a smaller cookie cutter or even the base of an icing tip to cut out the center so the blackberry jam will be exposed. Repeat with the remaining pieces of dough. If the dough gets too soft, place it in the freezer for about 5 minutes to firm up again. A firm dough ensures that the cookie rounds hold up well.
Bake the cookies for 12 minutes, then transfer to a cooling rack until cooled. Once cooled, spread the bottom half of each cookie with the blackberry jam, leaving a thin border around each cookie. The jam ensures that the cookies stick together. Place the top of each cookie with the middle cut out on its corresponding bottom half. Return to the cooling rack so that the cookies seal completely.
Notes
These cookies preserve at room temperature for 2 days. Store them in an airtight container. The texture of these cookies are meant to be crumbly and similar to shortbread cookies.