Fall is here once again, and we all know that a great fall season is best enjoyed with an occasional apple pie, especially when it's made with freshly picked apples from an orchard. This rustic Paleo Bourbon Apple Galette takes traditional apple pies to a whole new level, with a nutty and flavourful grain free crust and apples tossed with cinnamon and dash of good bourbon. 
Here we are again, another beautiful fall season, except things are a little different this year, due to the fact that we are still in a global pandemic. Unfortunately here in Toronto, we have regressed back into stage two because the Covid cases kept getting worse, so our gathering and social restrictions have been tightened yet again.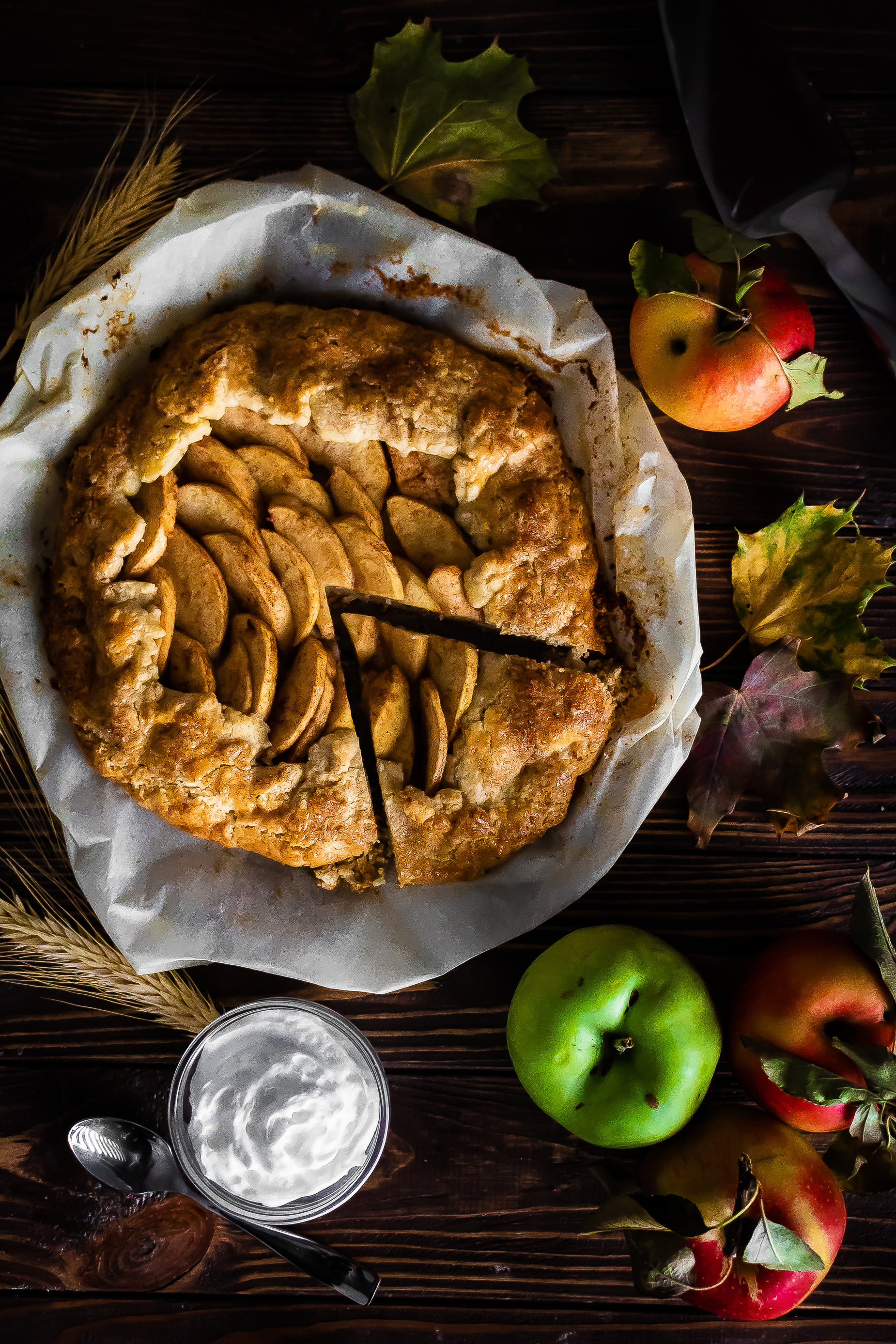 Although we possibly may be in lockdown again, the bright side to that is we will get to spend more time cooking and baking! Plus, since Thanksgiving is just a couple weeks away for us in Canada, you can start planning your menu by adding on this healthier paleo bourbon apple galette. Basically, if you're a rookie at making pies, a galette is an easier way to start, especially since it doesn't have to look perfect, because the appeal is in its rustic look. Plus, if you have anyone in your family who is celiac or sensitive to gluten, this galette is a perfect guilt-free indulgence. 
Summer may have been short this year, but I was lucky to have been able to still do some late summer activities, like lots of picnics, going to the winery/vineyards, and also recently apple picking! I went to a beautiful orchard in Niagara and picked some apples and pears, and let me tell you, freshly picked organic fruit does not compare to what you find at the grocery store. It's organic, it's cheaper, and most of all, a fun experience, especially when the weather is beautiful, which was the case when I went apple picking. 
So with all the apples and pears I picked, I basically ate up all the pears (they were so sweet and juicy), and used the apples to make an apple pie for my friend and of course, this galette for you guys, which I also partly consumed of course. The apples I picked and used for this galette were ginger gold and gala apples. I recommend that you pick your apples or go to your trusted farmers market, because the quality of the apples makes a huge difference in your pies. 

PALEO BOURBON APPLE GALETTE
Author: Valerie Azinge
Serves: 10 Servings
Ingredients
FOR CRUST
1 ¼ cup almond flour
½ cup arrowroot starch (or cornstarch, but not paleo)
1 tbsp monk fruit sugar
½ tsp ground cinnamon
¼ tsp kosher salt
1 stick unsalted cold butter, cubed
¼ cup ice water
FOR FILLING
2-3 ginger gold or gala apples, peeled and sliced
1.5 tbsp monk fruit sugar
½ tsp ground cinnamon
2 tbsp bourbon (or Irish whiskey), optional
EGG WASH
1 beaten egg
Instructions
In a large bowl or a food processor, start by combining the almond flour, starch, sugar, cinnamon, salt and butter until the batter is crumbly. Add in 1 tsp of ice water at a time until the dough starts coming together. You may not need the full ¼ cup of ice water in the event that your dough already sticks together, so play it by ear. Once your dough is formed (but not too sticky), flatten it out into a 1-inch disk and wrap it in seran wrap. Refrigerate for two hours, or overnight.
When your dough is ready to roll out, remove from the fridge and preheat your oven to 350°F. Roll out the dough between two pieces of parchment paper into a 10-inch round disk. If you find that the dough is too hard to roll, leave it at room temperature for about 1 minute. Remove the parchment paper on top and place the rolled out dough with the parchment paper at the bottom on a baking sheet.
Combine filling ingredients in a bowl, then arrange sliced apples in the middle of the dough, leaving at least an inch of space around the crust edges. If you have left over apple slices, place them in a ziplock and put in the freezer. You can warm them up and eat them with your oatmeal.
Gently fold over the dough around the apples. Brush the edges with your egg wash. Bake for 40-45 minutes until the edges are golden brown. Serve and enjoy.
Notes