A hearty and healthy Fall dish that packs quite a flavour punch. This Sesame Ginger Roasted Chicken and Carrots is a delicious and cosy start to your Fall cooking. it's crispy, spicy and slightly smokey with sweet hints of ginger, sriracha and honey, plus the carrots make the perfect compliment to this dish.
It's September, and just like that our warm summer weather drifts away in a flash. The temperatures are cooler, pumpkin spice lattes are back, and we're basically back in fall jackets and darker colours. As much as I hate saying goodbye to the short summer months we had, I do adore autumn and all the lovely colours and festivities it has to offer, particularity fall cuisine. This sesame ginger roasted chicken and carrots is a fall masterpiece that needs to make it to your lunch or dinner table! 
Some of you who have been following along with my recipes and my journey (I heart you all) know that I had kept the majority of my savoury recipes pescatarian, but with some new exciting content changes and the upcoming release of my cookbook, I decided to diversify my recipes into a broad range of categories, while keeping it healthy and delicious of course. There will be a little something for everyone, and I'm super excited to share more yumminess with you!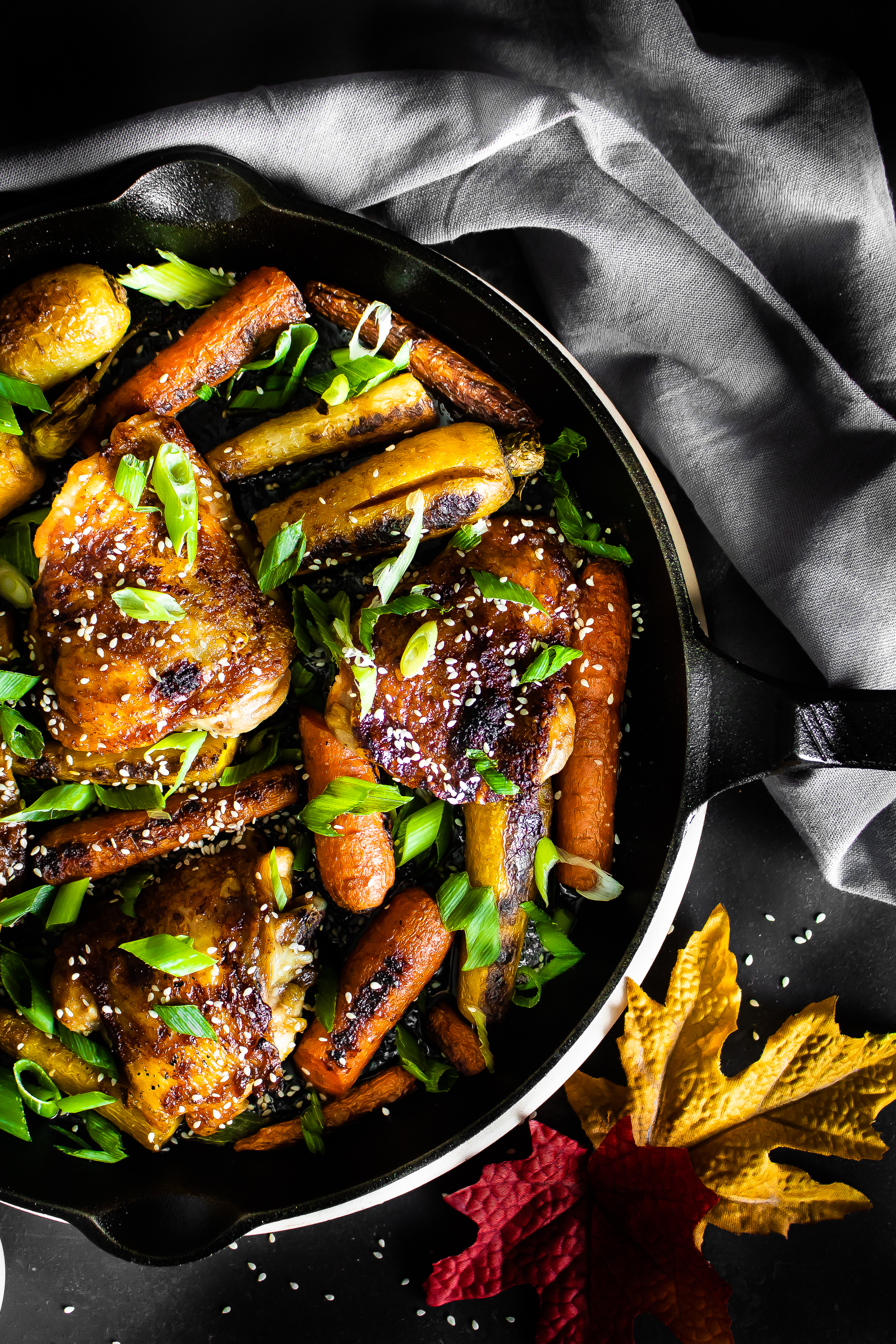 In the meantime, go ahead and add this recipe to your to-do list. You won't regret it.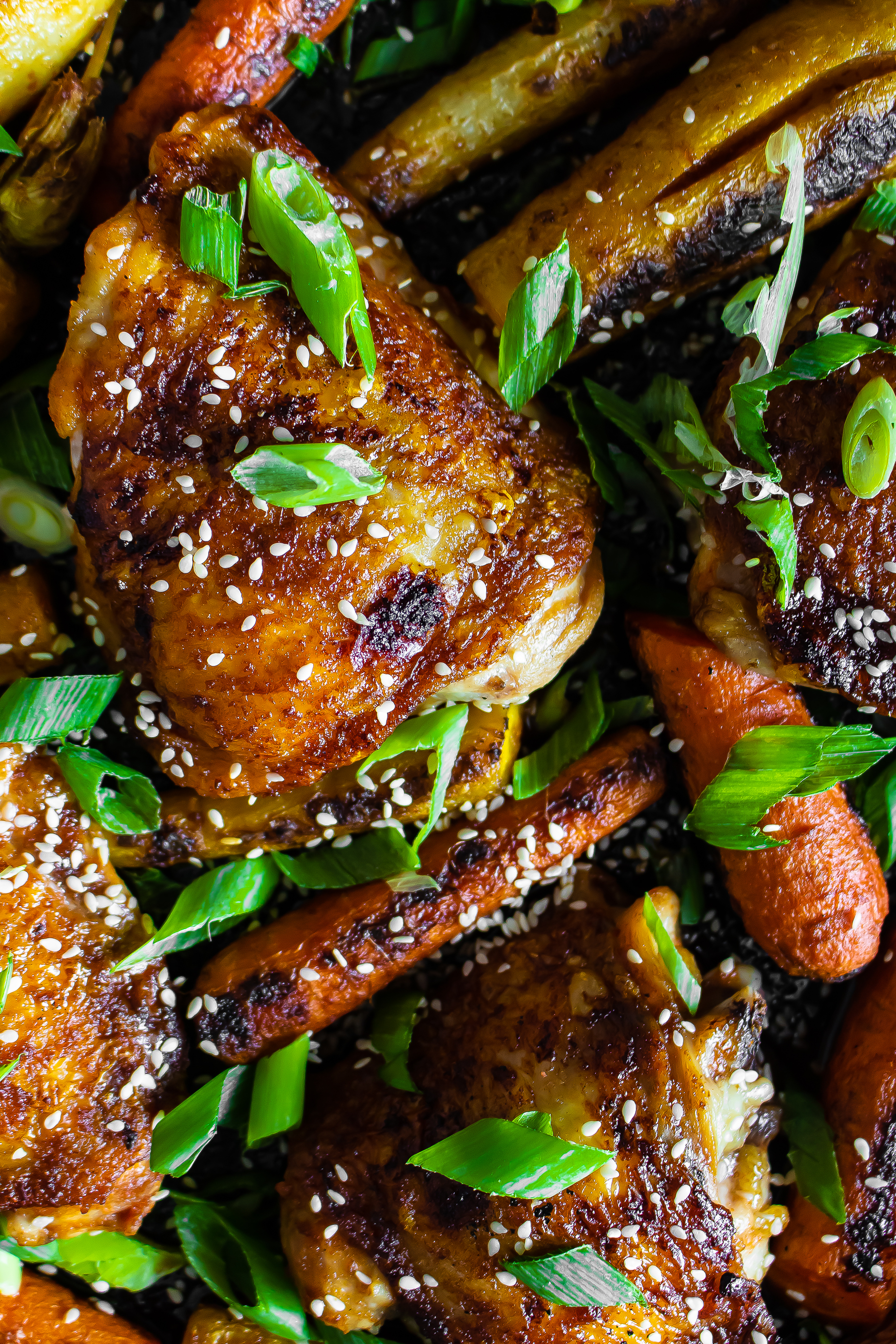 SESAME GINGER ROASTED CHICKEN AND CARROTS
Author: Valerie Azinge
Serves: 4 Servings
Ingredients
1 lb (4) chicken thighs, bone in, skin on
Kosher salt and black pepper
2 tablespoons sesame oil, divided
1 lb rainbow carrots, washed and chopped into 3 sections
2 tablespoons organic soy sauce
2 tablespoons sriracha hot sauce
2 tablespoons rice vinegar, unseasoned
1 tablespoon raw honey
1 tablespoon minced ginger
2-3 scallions, chopped
1 tablespoon sesame seeds (for topping)
Instructions
Start by preheating your oven to 425°F. Heat a 12-inch cast iron skillet over medium heat.
Season chicken thighs with salt and better on both sides, then rub with 1 tbsp sesame oil.
Once the skillet is hot, place chicken thigh skin side down in the skillet and cook undisturbed until the fat has rendered out, about 6 minutes. Flip thighs and cook the reverse side for 2-3 minutes, then transfer chicken to a plate. Pour out excess oil and fat and leave just enough to coat the skillet. Return the skillet to the stove top and turn heat to medium-high.
Place chopped carrots in the skillet and cook until a char forms for about 5 minutes, then flip carrots and season with some salt. Cook reverse side for 2 minutes, then turn the stove off and transfer hot skillet (use oven mitts!) to the oven. Roast carrots for 10 minutes. While your carrots are in the oven, combine soy sauce, sriracha, rice vinegar, honey and ginger in a small bowl and whisk until mixed.
When carrots are ready, remove the skillet from the oven, but keep the oven on. Return chicken to skillet and pour soy ginger mixture over the chicken and carrots. Return the skillet to the oven and roast for 15-18 minutes. When ready, top with sesame seeds and scallions. Serve hot.
Notes
*Recipe modified from Bon Appetit.