With only five days until Christmas, some of you may be looking for recipe ideas to add to your breakfast menu for the holidays. This Mushroom Egg Breakfast Hash is a healthy and easy dish you can make on Christmas eve, Christmas morning or any day of the week!
I can't believe Christmas is only a few days away! Luckily I've gotten all my shopping done and my Christmas eve dinner recipes lined up! This will be my first time hosting a Christmas eve dinner and I couldn't be more excited. Since it's going to be my first time hosing a Christmas eve dinner, I decided to keep it small and simple. When you live in a one-bedroom condo, its always tricky getting creative with space. Luckily for me my condo fits a dinning table fit for four people! Finally, I get to use all my festive table cloths and silverware. Since I'm spending Christmas and boxing day with my family in Kitchener, I'm keeping my Christmas eve menu on the smaller side. Let's face it, 3 days of over-eating might put me in a food coma and we can't have that!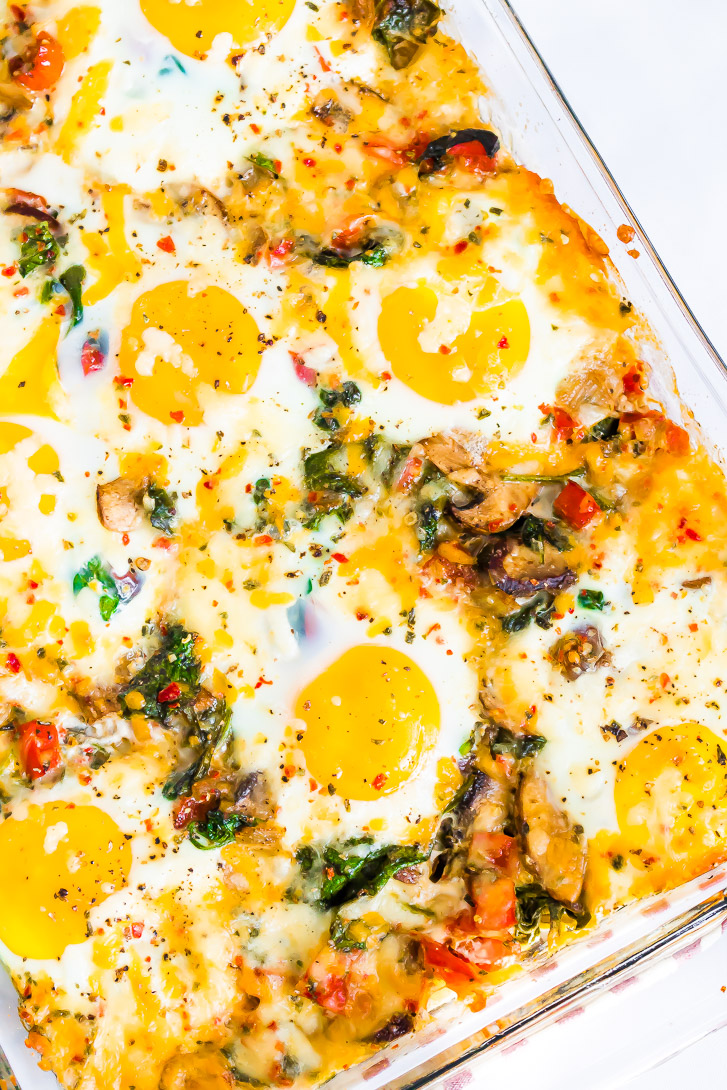 Although I wouldn't be making this mushroom egg breakfast hash on Christmas eve, I encourage you guys to consider making this for breakfast if you're looking for something healthy, easy and quick. I mean I would love to make these again on Christmas eve, but I'm hosting a small dinner so this breakfast hash wouldn't quite fit into my theme. But hey, you could eat these anytime you'd like! After all there aren't any serious rules when it comes to food. It just has to taste good, and in my books, also good for you! The servings from this mushroom egg breakfast hash also yields a decent serving for 4 to 5 people. So go ahead and get crackin!
Ingredients:
5 peeled red or white potatoes, chopped
1 pound sliced cremeni mushrooms
6 cups baby spinach
8 large eggs
1 large white onion, chopped
1 jalapeno pepper, chopped and seeds removed
2 small sliced tomatoes
½ cup rice milk
¾ cup shredded cheese (any cheese of choice)
salt and pepper to taste
3 tablespoons olive oil
Directions:
1. Preheat your oven to 350 degrees F. and lightly grease a casserole dish with olive oil. Set dish aside.
2. Heat a skillet over medium heat and add 1 tablespoon of olive oil. Sauté onions and mushrooms until fragrant. Add in spinach, tomatoes, jalapeno, salt and pepper and sauté until spinach is withered. Remove from heat and set aside.
3. Coat chopped potatoes in salt, pepper and 2 tablespoons of olive oil. Place coated potatoes in the casserole dish. Top the potatoes with the mushroom spinach mixture until all the edges of the pan are coated. Crack eggs on top of the mushroom spinach mixture. Finally, top with milk and shredded cheese.
4. Transfer the casserole dish into the preheated oven and bake for 18-20 minutes. Serve when ready.
Note: I recommend cutting the potatoes into very small cubes before putting them in the casserole dish. This will make the potatoes bake properly!