The holiday festivities continue with these Carrot Cake Pancakes. These were made with whole wheat flour and topped with Greek yogurt frosting to give this holiday favorite a healthy twist!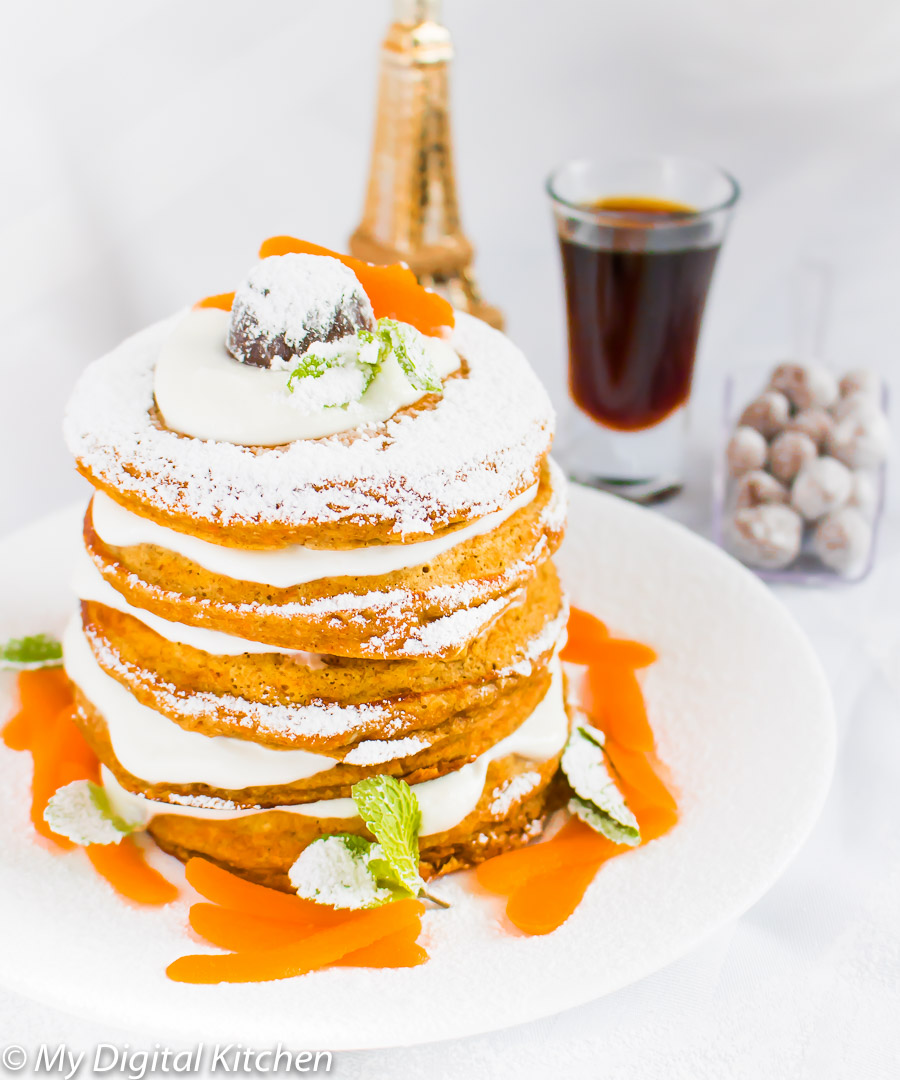 Although I made carrot cake bars a while ago, I decided to make them into pancakes as a great holiday twist! Now you can enjoy carrot cake for breakfast! Christmas is only a week and a few days away and I couldn't be more excited. Finally, I was able to get all my Christmas shopping done as well as more holiday recipes lined up for you guys! My week has literally been filled with Christmas parties, gift exchanges, holiday baking and non stop Christmas music on the radio. It's also been snowing a lot so the season is shaping up beautifully.
These carrot cake pancakes are perfect for those cold snowy mornings. The inspiration to make these pancakes came about because of the snow storm we got a couple nights ago. When I woke up the next morning, I loved how pretty it looked outside! The snow on the tree branches and streets officially kick started our first snowfall of the year! Now don't get me wrong, I don't like the cold, I actually hate it. But, I love snow because of the mood it sets. It makes everything look so pretty and calm! As I am writing this, it is snowing outside and the snow is coming down hard! Which kind of sucks for those who are driving. Anyways before I go off topic, my point is these snowy carrot cake pancakes represent the beauty of winter during the holidays. At least I hope It does!
When I decided to make these pancakes, I figured I'd make a few modifications to this recipe just to give you guys a healthier option. I substituted all purpose flour for organic whole wheat flour and also substituted the cream cheese frosting for fat free Greek yogurt. I encourage indulging occasionally over the holidays, but for those of you who would prefer do indulge a little less like I do, these carrot cake pancake pancakes are right up your alley!
Ingredients: Yields 3 servings
1 ¼ cup organic whole wheat flour (or regular whole wheat flour)
¼ cup chopped roasted pecans
2 teaspoons baking powder
¼ teaspoon sea salt
1 teaspoon ground cinnamon
Dash of cloves
1/8 teaspoon ground ginger
1/8 teaspoon ground nutmeg
¼ cup light brown sugar
1 to 1.5 cups unsweetened almond milk (or any dairy free milk of choice)
1 ½ teaspoons pure vanilla extract
2 large eggs, beaten
2 large carrots, peeled and grated (not shredded)
Coconut oil or coconut spray for frying
1 cup fat free vanilla Greek yogurt
Maple syrup and icing sugar for topping (optional)
Directions:
1. Combine flour, pecans, baking powder, salt, cinnamon, cloves, ginger and nutmeg in a large bowl. In a separate bowl, combine brown sugar, milk, vanilla, eggs and grated carrots. Fold in the flour mixture into the rest of the ingredients until you form a batter. If your batter is too thick, add more milk until you get the consistency you want.
2. Heat a skillet over medium-low heat and add 1 tablespoon of coconut oil. Alternatively, you can use cooking spray. Add half a cup of the pancake batter into the skillet and fry both sides until cooked. repeat the process until the batter is finished.
3. When ready, frost your pancakes with Greek yogurt and serve with toppings of choice.