Cold weather forever calls for soothing comfort foods, which is why this Spicy Lentil Curry and Garlic Naan should be your new weeknight favourite. This flavourful and luxurious bowl of lentils is also gluten and dairy free. 
I hope you are all having an amazing New Year so far. The holidays have been wrapped up for a few weeks and now we are back to our regular routine with work, taking down the holiday decorations and of course, lots and lots of snow. However, if part of your regular routine involves clean eating, then this recipe is right up your alley. My Spicy Lentil Curry provides you with protein, fibre, iron and total deliciousness.
This dish is actually a staple in my household. Not only is it quick and easy to make, but it also makes substantial portions, can be eaten with pretty much any savoury side dish, and also stores for slightly over a week. So, if you're a fan of curries, you should definitely give this dish a try! It's creamy, spicy with a hint of heat, garlicky and smooth.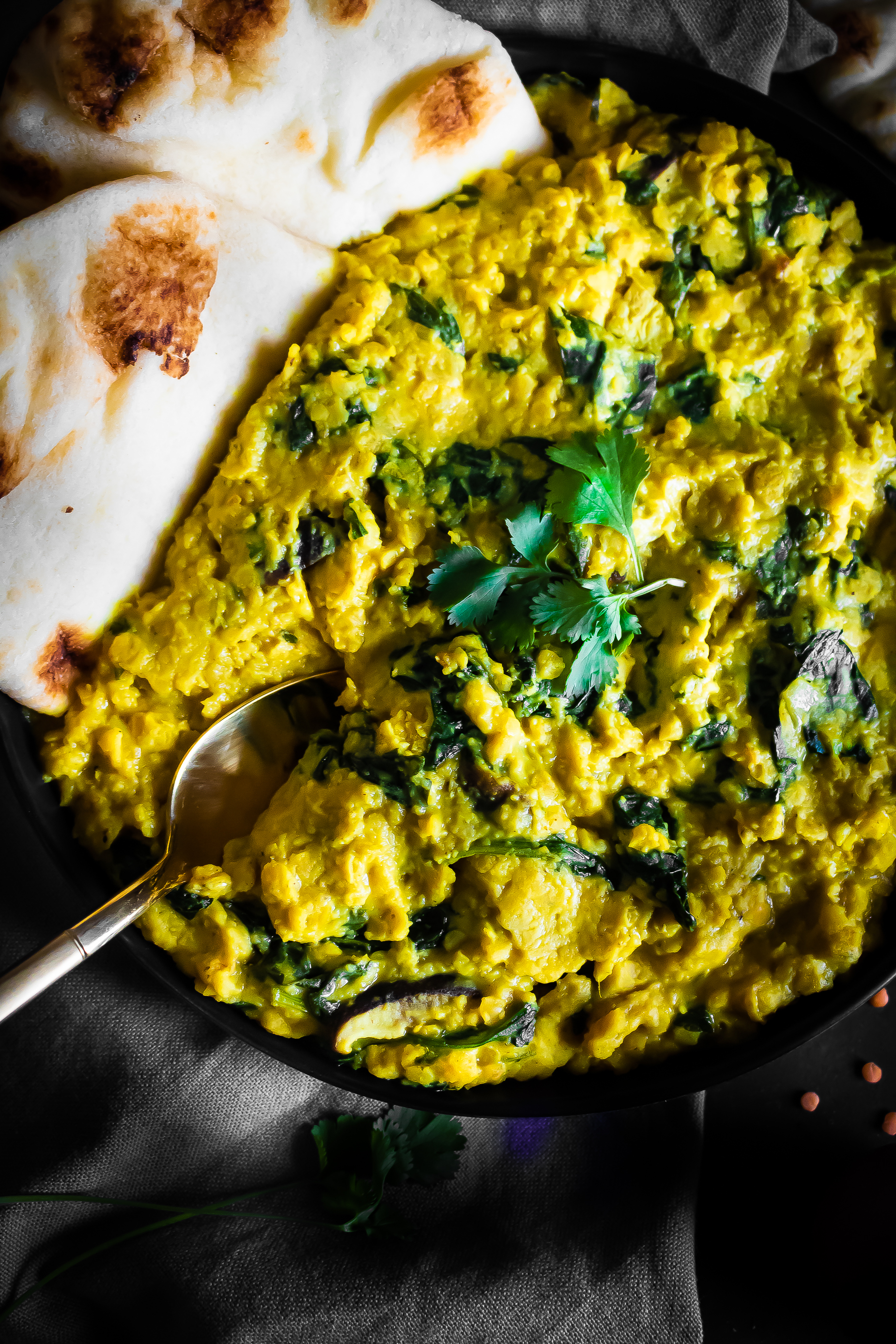 The naan bread is also gluten free (contains dairy) and can be made in advance. Since I had posted the naan bread, previously, you can find the link to the recipe in the ingredients. I hope you enjoy this delicious curry dish as much as I do, which frankly is almost on a regular basis. Happy eating!
SPICY LENTIL CURRY AND GARLIC NAAN
Author: Valerie Azinge
Recipe type: Vegetarian
Serves: 10 Servings
Ingredients
1 medium shallot, chopped
1 tbsp fresh ginger, minced
2 cloves garlic, minced
2 tbsp extra virgin olive oil
1 tsp ground cumin
½ tsp ground coriander
1 tsp turmeric powder
1 tsp kosher salt
1 jalapeno pepper, chopped
2 cups water
1 ½ cups red lentils
1 (14oz) can full fat coconut milk (unsweetened)
3 cups baby spinach
Cilantro, for garnish
Instructions
Heat oil in skillet over medium-high heat. Saute shallots, ginger and garlic until brown, about 1 minute. Add cumin, coriander, turmeric, salt and jalapeno and stir until spices are toasted, about 1 minute.
Add in water, lentils and coconut milk, then stir until the fat in the coconut milk is absorbed. Cover the skillet and cook for about 12-15 minutes, stirring occasionally.
When ready, turn the heat off, then stir in the spinach into the hot curry until withered. Serve topped with cilantro and a side of gluten free naan bread.