Anytime you plan on going to Thailand, you have to enjoy the beautiful scenery, visit the elephant sanctuary, and of course, indulge in the yummy cuisine the country has to offer, like this gluten free Tom Yum Shrimp Noodle Soup!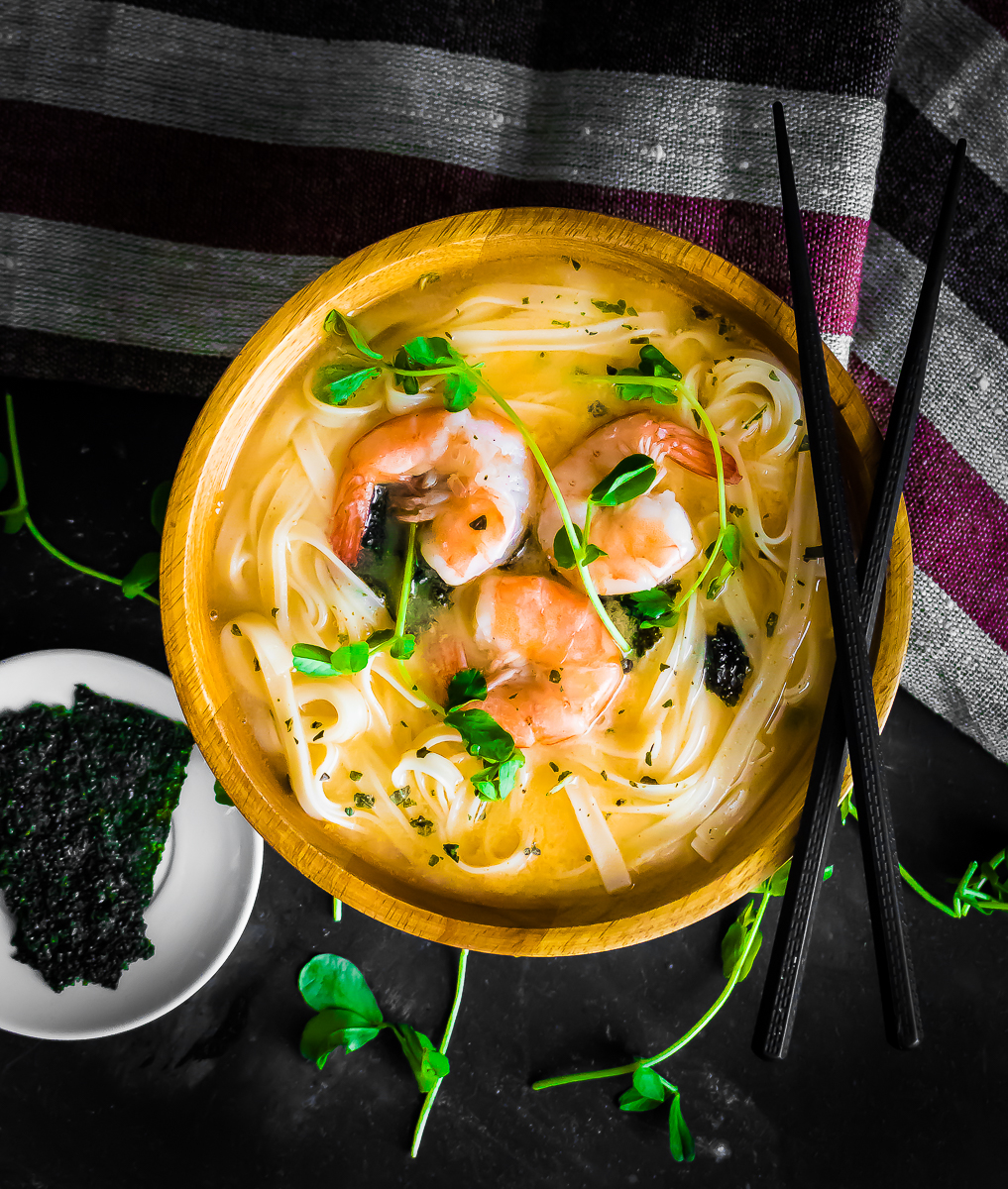 I'm finally back from Thailand! Back to my Toronto reality, my cozy studio apartment, and of course, work work work! Thailand was so amazing. The weather was hot, maybe a little too hot, the people were super friendly, the food was amazing, and there were just so many things to do! But don't you worry, I will do a separate blog post with highlights about my trip to this beautiful country, so stay tuned!
When we think Thailand cuisine, we usually think Pad Thai. Pad Thai is a noodle-based dish made with egg and topped with nuts, spices, and shrimp, or any other protein of choice. Although Pad Thai is a very popular street food in Thailand, there are other popular Thai dishes as well. There's Pad Mee, which is very similar to Pad Thai but cooked with larger noodles. Then, there's Tom Yum soup, which is a hot and sour soup usually topped with shrimp. It's hot, it's spicy, it's delicious!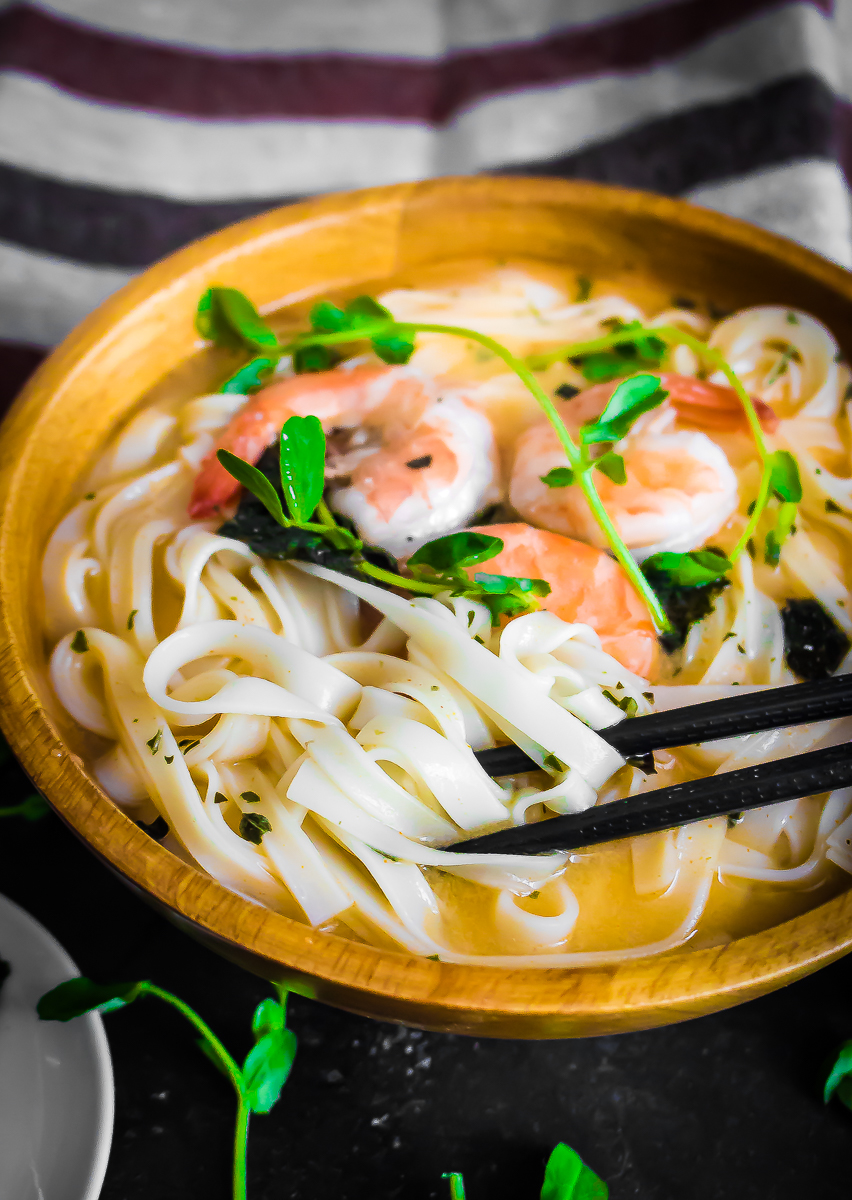 In my version of tom yum soup, I added brown rice noodles to give it a boost of healthy carbs, that way you can enjoy a hearty lunch! The soup on its own is fine as well, so the addition of the noodles is an option. Plus, since I'm still having Thailand withdrawal blues, this tom yum shrimp noodle soup is my little nostalgic takeaway from my vacation of a lifetime.
Don't forget to tag @mydigitalkitchen or #mydigitalkitchen on Instagram or leave a comment below or on my Facebook page when you try this recipe. I'd love to see what you come up with!
TOM YUM SHRIMP NOODLE SOUP
Experience a unique spin on Thailand cuisine with a hearty bowl of Tom Yum Shrimp Noodle Soup. This recipe is gluten free.
Author: Valerie Azinge
Cuisine: Thai
Serves: 4 servings
Ingredients
300g brown rice noodles
1 lb. large shrimp, peeled
2 quarts sodium free veggie broth (or bone broth)
1 teaspoon organic cane sugar (optional)
*2 stalks fresh lemongrass, sliced
2 tablespoons grated ginger
2 tablespoons Thai fish sauce
1 red chili pepper, sliced
1 green onion, sliced
2 limes, juiced
Salt, to taste
Pea shoots, for topping
Instructions
Bring the stock to the boil over medium heat in a saucepan. Add the lemongrass, ginger, and chilli pepper. Lower the heat to medium-low, cover, and simmer for 15 minutes to let the spices infuse with the broth.
Uncover the saucepan and add the fish sauce and sugar. Simmer for 5 minutes. Toss in the shrimp and cook for about 5 minutes until they turn pink. Be careful not to overcook the shrimp or they will turn out chewy. While the broth is simmering, add rice noodles until cooked, about 3 minutes.
Remove from the heat and add the lime juice and green onions. Serve with pea shoots.
Notes
The lemongrass is only for flavor, so you do not have to eat it.
Nutrition Information
Serving size:
4 servings
Calories:
365
Carbohydrates:
30g
Sugar:
1.5g
Sodium:
12mg
Protein:
11g