A moist and decadent chocolate cake with a spicy kick will definitely hit the spot this holiday season. This Chocolate Chili Raspberry Cake with chocolate ganache is dairy free and deliciously festive!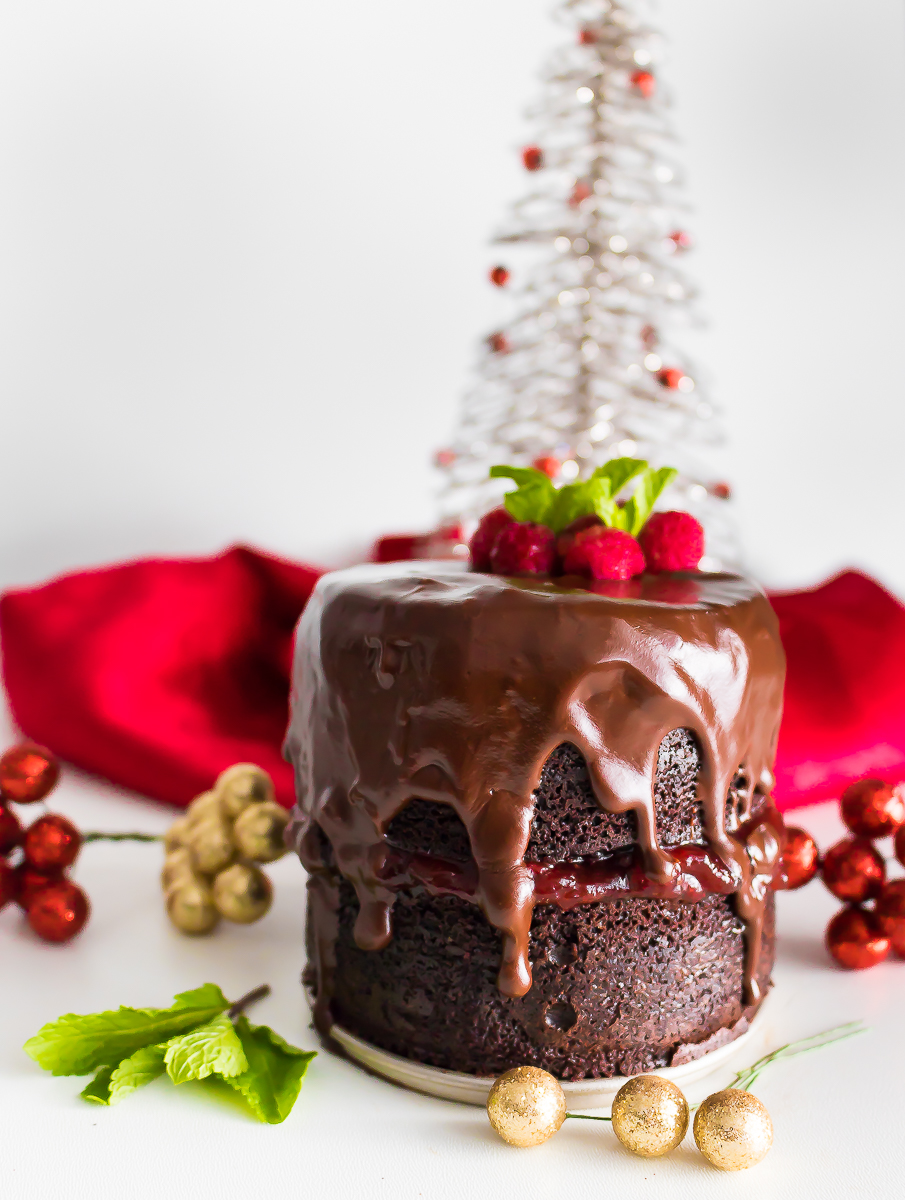 Let's be real, chocolate cake is the answer to all of life's problems. Well, most of life's problems. I mean everyone loves chocolate, and if you don't, then it's my mission to change your mind with this phenomenal chocolate cake. After several trials and errors, I finally perfected the recipe…so yay!  My goal for the holidays is to create as many healthy savory and sweet recipes you can serve at your dinner table. Whether it's dairy free, vegan, low sugar, low calorie or allergy friendly, I've got your back, because I love you all.
As I'm writing this post, it's snowing outside, and the only reason I'm a little worried is because I haven't gotten my snow tires yet! I should get on that. Also, it's freezing, but I'm wrapped up in a thick blanket with a cup of earl grey while simultaneously watching 90 Day Fiancé.  Technically I should be watching The Walking Dead since that's what I save my Sunday nights for. However, watching The Walking Dead requires a lot of attention to every detail and I'm not in the headspace to focus on it….so I'm blogging about this chocolate chili raspberry cake instead. You're welcome! Wink wink.
CHOCOLATE CHILI RASPBERRY CAKE
A moist and decadent chocolate cake with a spicy kick will definitely hit the spot this holiday season.
Author: Valerie Azinge
Recipe type: Holiday Recipes
Serves: 8 Servings
Ingredients
¾ cup organic cane sugar
1 cup light spelt flour
½ cup unsweetened cocoa powder
1 teaspoon baking powder
½ teaspoon baking soda
pinch of sea salt
½ teaspoon chili powder
2 eggs
4 tablespoons canola oil
1 teaspoon pure vanilla extract
½ cup hot brewed coffee
Chocolate Ganache
½ cup dairy free chocolate chips
1.5 tablespoons coconut oil
Filling:
Pure Raspberry Jam
Instructions
Preheat oven to 350°F and grease 4 mini cake pans with cooking oil or spray. If you do not have mini cake pans, you can use 6 ramekins. Place cake pans on a baking sheet and set aside.
In the bowl of an electric mixer, combine sugar, flour, cocoa powder, baking powder, baking soda, sea salt and chili powder. Add eggs, milk, oil and vanilla and beat for 1 minute. Add hot coffee and beat until well combined. Your batter will be thin and that's okay.
Pour cake batter into greased mini cake pans, leaving about a 1.5-inch space at the top. Bake for 20-25 minutes or until the toothpick comes out clean. When ready, transfer the cake pans to a wire rack to cool completely, about 25 minutes.
To make the ganache, add 1 cup water into a skillet. Set your stove on medium low heat until a gentle simmer forms. Place a glass or ceramic bowl over the skillet and add chocolate and coconut oil. Mix until melted and set aside.
When your cake is completely cooled, spread raspberry jam on two cakes and layer with the other two. Top with chocolate ganache and let it set. Serve and enjoy.