Let's get cozy and fuzzy this pre winter season with this hearty bowl of Red Pepper Sage Mashed Sweet Potatoes. You heard it guys, mashed potatoes can be sweet and healthy too!
Oh my gosh its going to be officially winter in a month! Although we've had a little bit of snow in Toronto and it's freezing cold, I refuse to say "winter is here" until December 20th. If you're fan of Game of Thrones, then you will get the winter reference. Welcome to nerdiville!
For all my American readers, this yummy bowl of mashed potato coziness is for you. Since American thanksgiving falls on the 23rd, I decided to dedicate this recipe to your lovely faces! This red pepper sage mashed sweet potato recipe works as a side dish or even as an antipasto spread for baguettes, roasted veggies or crackers.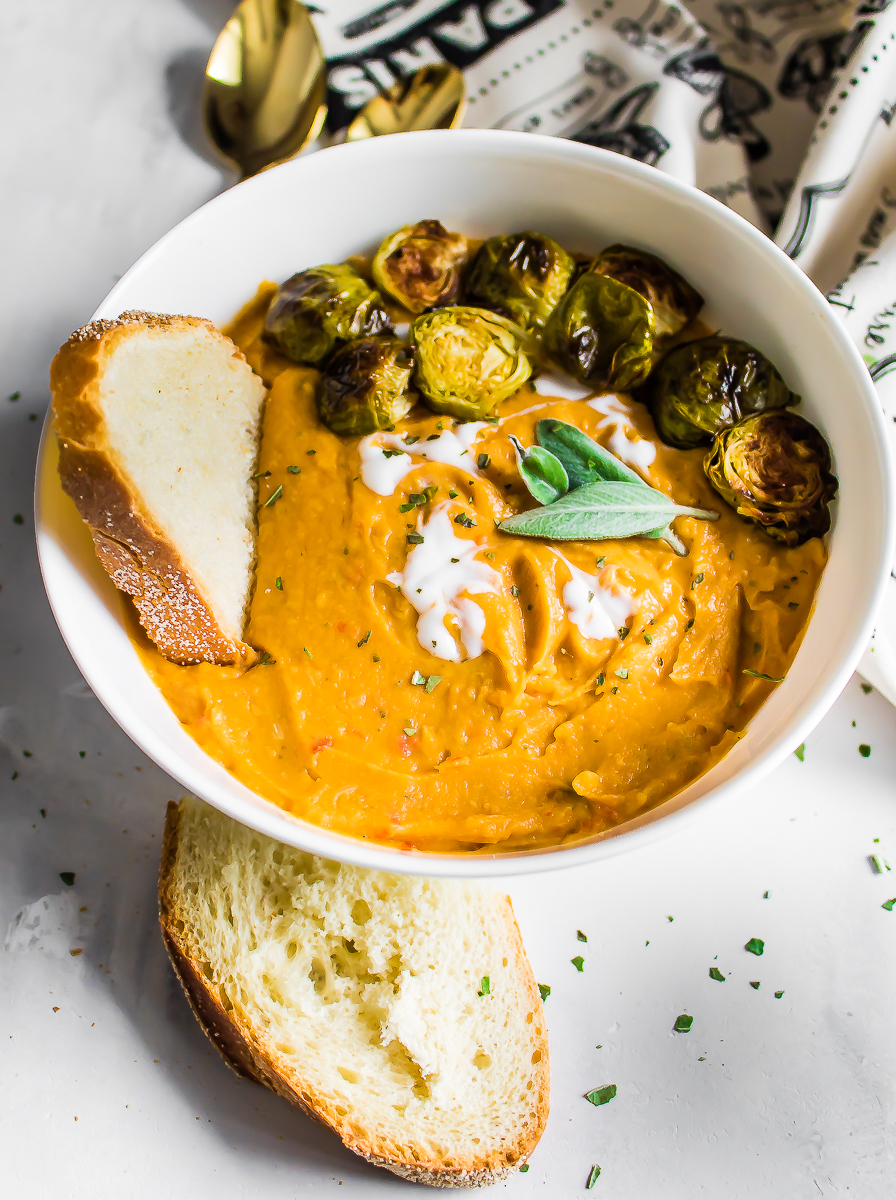 I'll be honest guys, it's been a long week, one of those weeks when you have so much to do but the days are so short because it gets dark at like 4pm. So you carry your tasks on to the next day because for some reason your brain tells you that your day is over and its time for bed when the sun sets. I mean don't get me wrong, I love longer nights because sleeping is a great hobby of mine and a well mastered skill. However, it doesn't really help when you have a gazillion things to do within a 5-hour span…anyways before I digress, these mashed sweet potatoes are deliciously vegan! No cream, no butter, no fuss. Just a happy bow of red pepper sage mashed sweet potatoes. That's all folks! (please don't sue Warner Bros). Have a happy thanksgiving!
RED PEPPER SAGE MASHED SWEET POTATOES
These mashed sweet potatoes are deliciously vegan. No cream, no butter, no fuss.
Author: Valerie Azinge
Recipe type: Vegan
Cuisine: American
Serves: 10 servings
Ingredients
2 cooked sweet potatoes, boiled or roasted
1 can unsweetened light coconut milk
¼ cup chopped red onions
2 medium sized red bell peppers
2 small garlic cloves, chopped
½ teaspoon curry powder
1 tablespoon dried sage
½ teaspoon sea salt, or more to taste
¼ teaspoon cayenne pepper
Roasted Brussels sprouts
Olive oil, for roasting
Instructions
Roast red peppers in a 500°F oven on a foil-lined baking sheet until tender and charred on all sides - about 10-15 minutes in the oven, then wrap in foil to steam for a few minutes. When ready, set aside and reduce oven to 400°F. Place Brussels sprouts on a lined baking sheet and toss with olive oil, salt and pepper. Roast in the oven for about 30-40 minutes, then set aside.
On a stove top set over medium-high heat, grease a skillet with a tablespoon of olive oil and sauté onions and garlic until fragrant. Mix in dried sage, curry, salt and and pepper. Add in coconut milk and let it simmer covered for about 5-7 minutes.
In a blender, add cooked sweet potatoes, roasted red peppers and coconut mixture and blend on medium speed until smooth. It should have the thickness of regular mashed potatoes. Pour mashed sweet potatoes into a large serving bowl and top with Brussels sprouts. Serve!