Hello September! Let's get cozy and fall ready with one of my favorite healthy comfort dishes. These Thai Coconut Curry Mussels will surely get you in a cozy fall mood.
I'm a little late with posting this delicious recipe because it's been a crazy couple of weeks. First of all, I caught a summer cold a couple weeks ago which left a lingering cough for like an extra week and a few days. Bummer! Then I had to push my deadline for the first draft of my cookbook to November because of last minute projects that came up. I mean busy is good, but when all the workload falls only on your shoulders, it becomes overwhelming. Thank goodness I am finally able to gather a team together to take some of the work load off!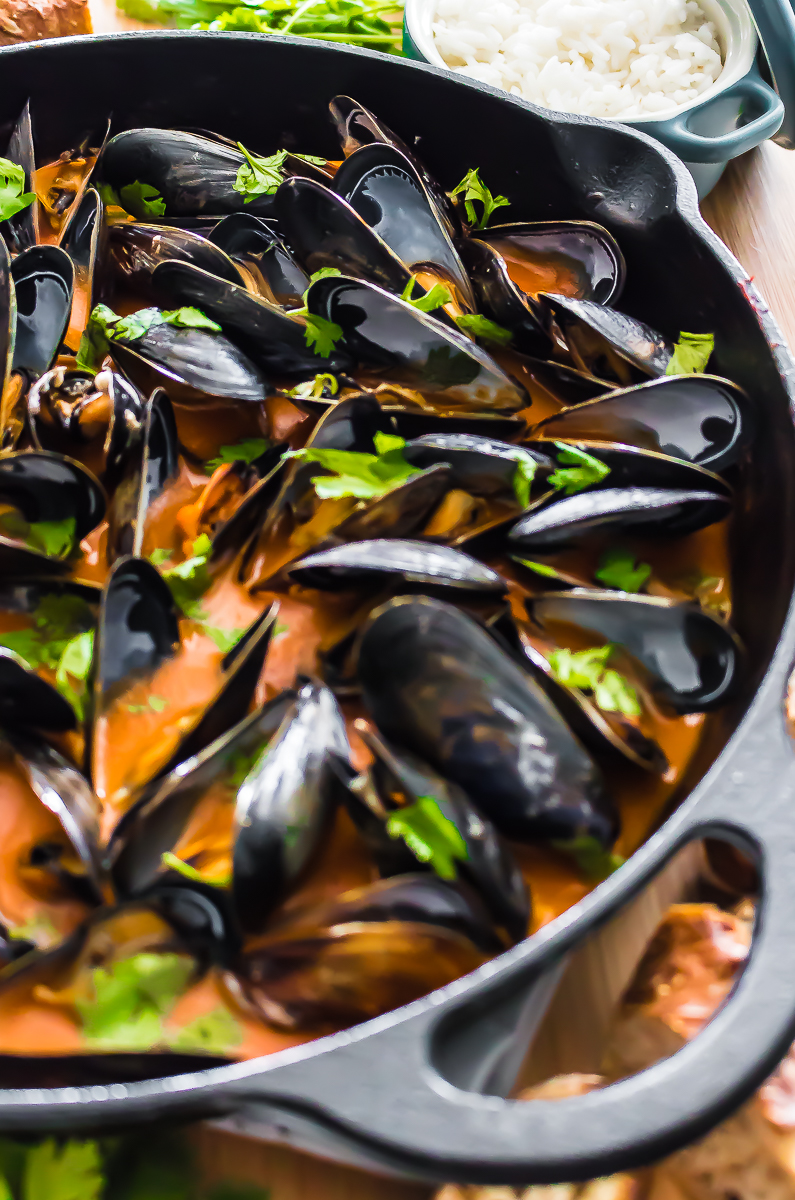 It's quite crazy how quick summer was; I mean its already mid September! Why is the year going by so fast?! Its only 3 months until the holidays! I don't even want to think about it so we'll just focus on the present, and also on this hearty plate of healthy food!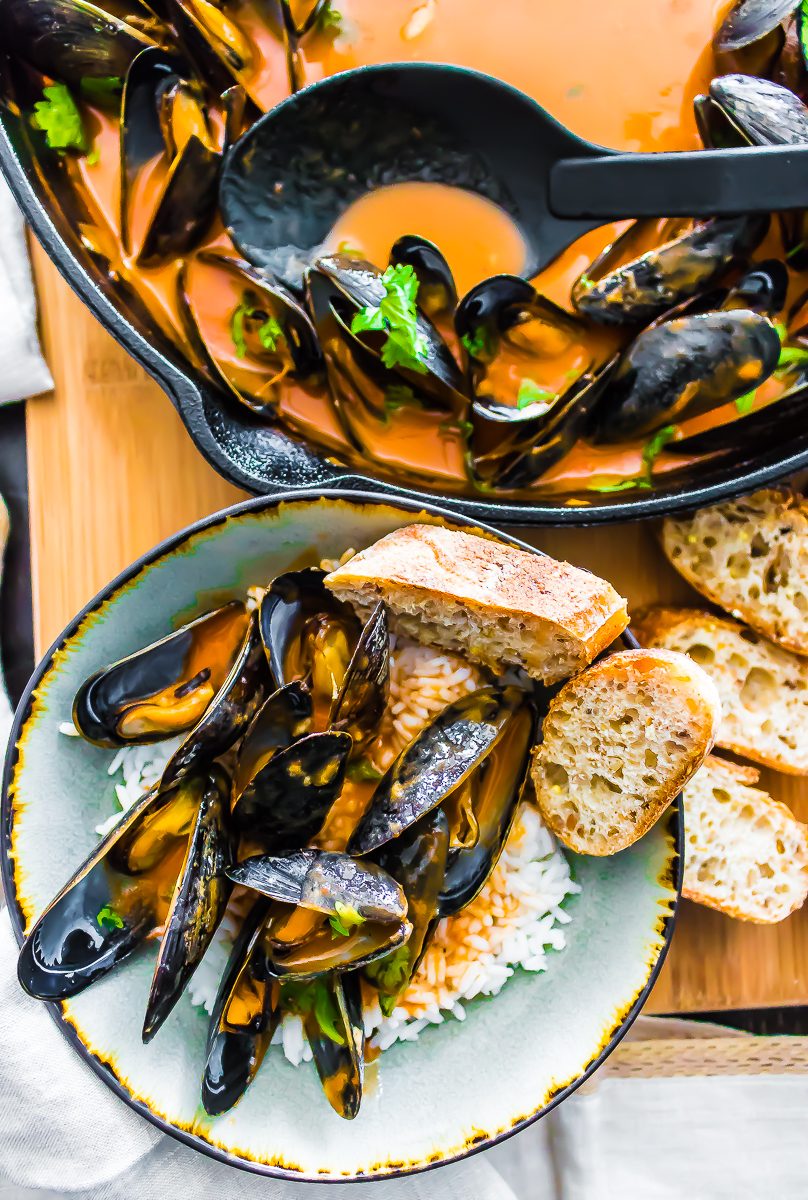 This was such a fun and easy recipe to put together. I've made Thai coconut curry recipes in the past and they were all delicious, but I did something a little differently with this recipe by adding turmeric! Turmeric is a very earthy spice which is loaded with antioxidants and anti-inflammatory compounds. However, it can be very overpowering depending on how you incorporate it in a recipe. I find that in order to make turmeric successful in food, you need to combine it with a type of fat such as coconut milk, butter, ghee heavy cream, etc. that way, it breaks down some of the acidity in the turmeric and creates a milder flavor.
These Thai coconut curry mussels contain low fat coconut milk and is an excellent pairing with turmeric! Wishing everyone an amazing week and I hope you guys enjoy this recipe as much as I do!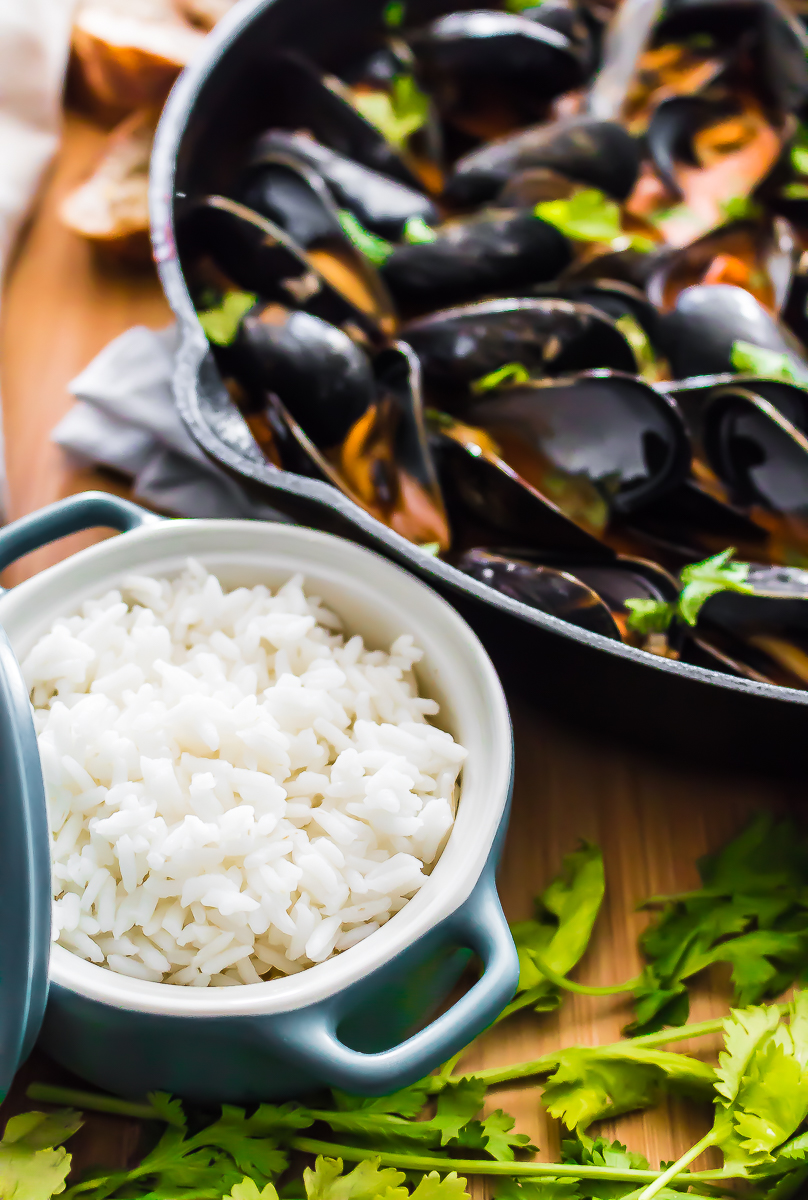 THAI COCONUT CURRY MUSSELS
Get cozy and fall ready with this fall favorite healthy comfort dish.
Author: Valerie Azinge
Serves: 6 servings
Ingredients
2 tablespoons peanut oil
3 tablespoons Thai red curry paste
½ cup low sodium veggie stock
1 can low fat unsweetened coconut milk
½ teaspoon turmeric powder
2 tablespoons Thai fish sauce
1.5 tablespoons fresh lime juice
1 teaspoon light brown sugar
Pinch of salt and pepper to taste
2½ pounds mussels, rinsed and scrubbed
3 tablespoons chopped fresh cilantro leaves
Instructions
Place a large skillet pot over medium high heat and add peanut oil until simmering. Add curry paste, veggie stock, coconut milk, turmeric, fish sauce, brown sugar and lime juice and bring to a simmer while whisking.
Add the mussels, cover the pot and let steam until opened. During the last minute of cooking, add the cilantro. Serve with rice, noodles or baguette.