Because pancakes are amazing and should forever be a breakfast favorite, make them more fun by trying these Berry Ricotta Blender Pancakes. They are low fat, gluten free and so fluffy that you may have a hard time putting the fork down.
So I know this isn't a fashion blog, but I absolutely had to share the shopping adventure I had over the weekend. Recently, Zara had a grand opening at the mall close to where I live in the city. Now for those who don't know me, I'm obsessed with all things Zara. From their fall to their spring collection, occasional winter pieces and even their summer releases. Let's just say I'm always at a Zara location or browsing their online store at least once every couple of weeks.
After my cousin and I had lunch on Saturday, we decided to walk around the mall while catching up on some girl time. That's usually code for girl gossip by the way. While walking, we stumbled on a newly opened Zara store. So we decided to walk in just to check it out and I don't know, "embrace the ambience" or whatever. Now I was dead set on not making any purchases because I promised myself that I would be good this year and just stick to what I had in my closet. Well, that didn't last long when I came across this burgundy beauty.
I live for fall and winter coats; I'm not kidding, I have one coat in almost every color and style because I believe coats are timeless pieces that can transform your look to whole new level. As long as it's the right fit of course. I tried it on, fell in love, felt guilty for falling in love with it, bought it, still felt guilty, then suppressed my guilty feelings with Pinkberry. Problem solved! Now I have a burgundy coat added to my coat collection. Yay!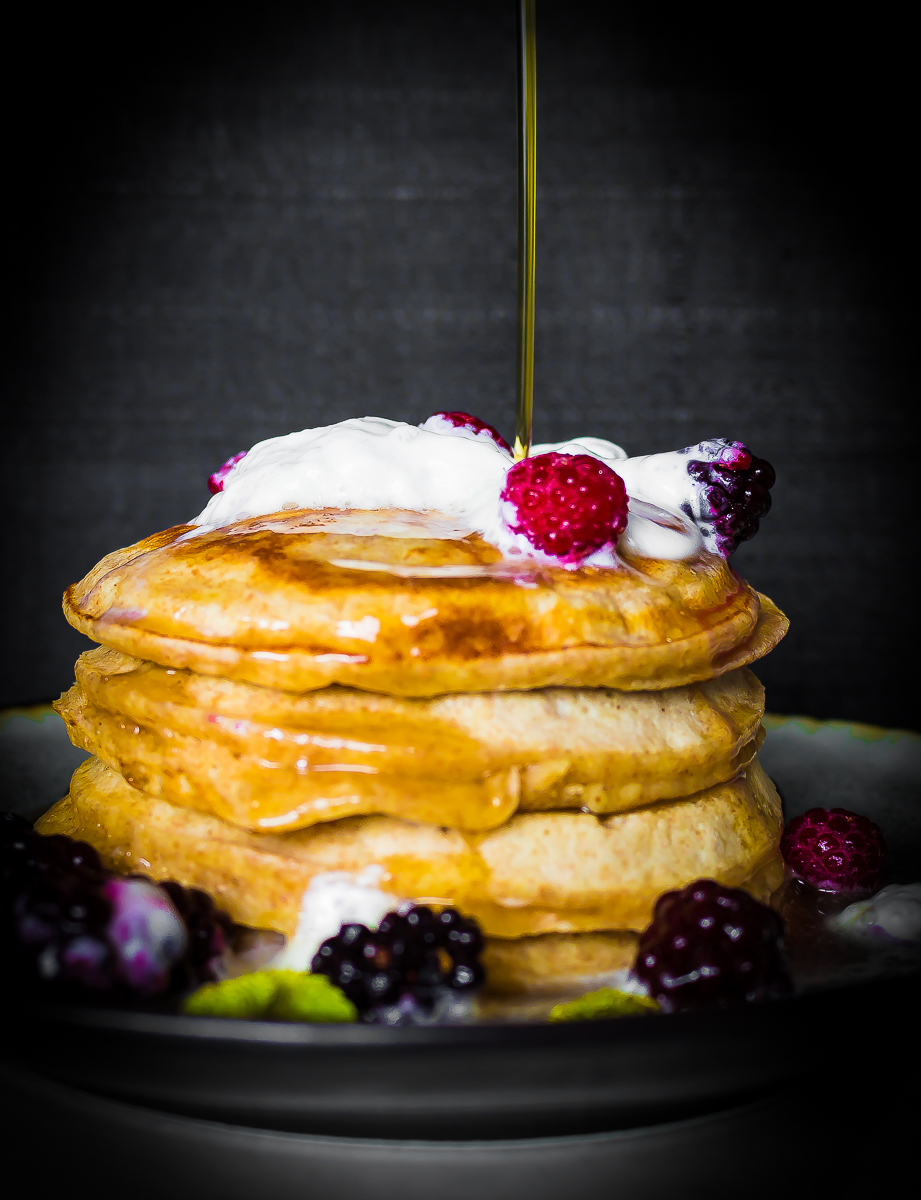 Anyways, I digress. These pancakes were by far the best pancakes I have ever made. For starters, I never figured that ricotta cheese would work so well with pancake batter! Plus, when its low fat and also gluten free, you basically win at breakfast. These yummy berry ricotta blender pancakes were made with my Vitamix Ascent series blender.
BERRY RICOTTA BLENDER PANCAKES
Low fat, gluten free and easy to make.
Author: Valerie Azinge
Recipe type: Breakfast
Serves: 10 Servings
Ingredients
1 cup low fat ricotta cheese
1 cup gluten free oat flour (or brown rice flour)
½ teaspoon baking powder
1 tablespoon cane sugar
A pinch of sea salt
½ teaspoon pure vanilla extract
¾ cup unsweetened almond milk
2 eggs
Coconut oil for cooking
Berries for topping
Instructions
Place ricotta cheese, oat flour, baking powder, sugar, salt, vanilla, almond milk and egg in a blender and blend on low speed until smooth. Pour batter into a large bowl and a place a skillet over medium high heat. Add 1 teaspoon of coconut oil to the skillet and measure about ¼ cup of the pancake batter. Flip the pancake once edges begin to brown and bubble. Repeat until batter is used up.
Stack your cooked pancakes and top with berries, light whip cream, pure maple syrup or any topping of choice.