Inspired by Bobby Flay's red velvet hot chocolate, my Red Velvet Peppermint Hot Chocolate brings together lots of festive flavors for the holidays!
So lately, I've been binge watching the Food Network's holiday line ups. All the holiday recipes my favourite chefs have been creating has made me both jealous and inspired. Of course I'm a little jealous because I can't lick the screen, but I have also been inspired to replicate some of the recipes, which is what I did here! After all, nothing screams holiday festivities like red velvet peppermint hot chocolate!
I stumbled across a similar recipe when I was watching Bobby Flay's holiday special on the Food Network. I think its safe to assume that everyone loves hot chocolate especially during the holidays! Some people enjoy different variations of hot chocolate. For instance, my uncle drinks his hot chocolate with a shot of brandy. My friend enjoys hers with peppermint and nutmeg. My mom and I occasionally enjoy ours with Baileys! So however you choose to enjoy yours, enjoy it with a giant smile on your face.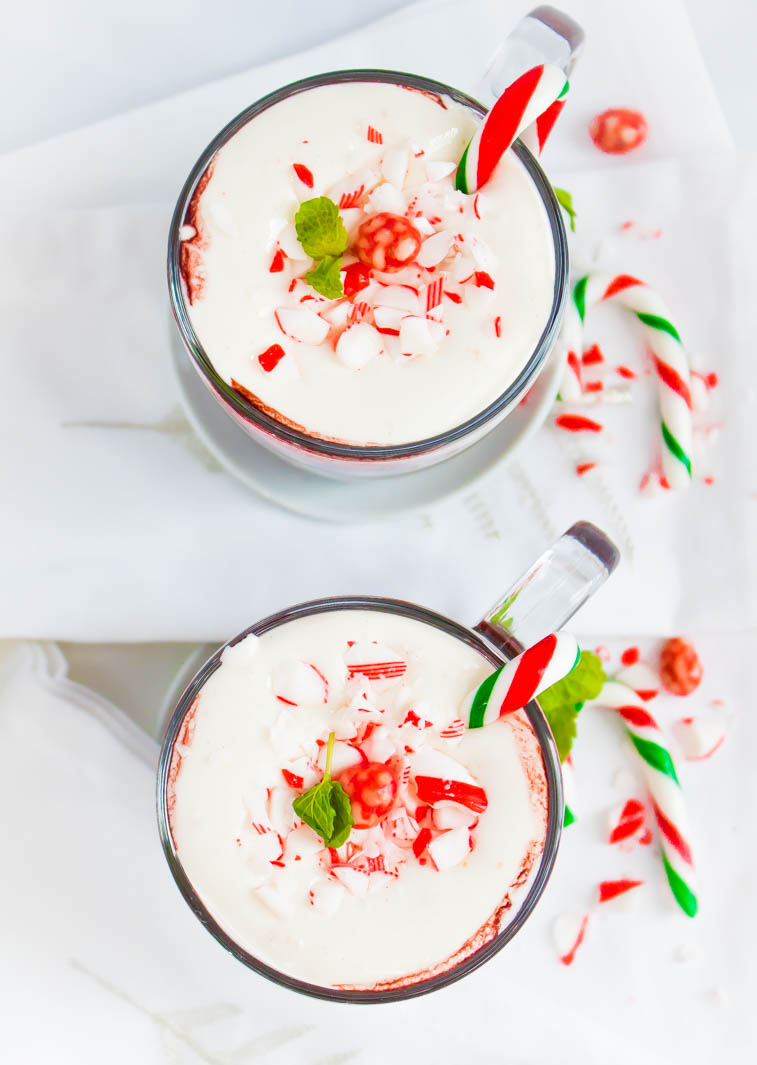 The two things I now focus on when making hot chocolate is making it from scratch, and making it rich and thick. When I was in Niagara on the Lake with my friend Teen, we went to an Italian gelato shop. We didn't walk out with gelatos since it was late at night and quite chilly, but we walked out with two cups of authentic Italian hot chocolate! From what we were told from the server, real Italian hot chocolate usually has a much thicker consistency than regular hot chocolate and its also often made unsweetened. The server already had the hot chocolate rotating in a large clear canister ready to serve. Wow I gotta tell ya, that was the best hot chocolate I had ever had in my entire life. The quality was so rich and thick, and the semi sweet flavor was just perfect!
Basically, I guess its fair to say that I was inspired by the hot chocolate I had in Niagara on the Lake as well as Bobby Flay's red velvet hot chocolate idea. Therefore, I present to your lovely faces my version of red velvet hot chocolate, with a touch of peppermint. To make this recipe calorie friendly, I used unsweetened almond milk, dairy free semi sweet chocolate and la scoop of light whip cream. For some of you who would prefer your hot chocolate thicker like this recipe, the trick is the addition of the chocolate! Melting the chocolate in the saucepan along with the other ingredients gives this red velvet peppermint hot chocolate a thick and creamy texture! Oh how I love the holidays!
Ingredients (yields 2 servings)
2 cups unsweetened almond milk
1 cup dairy free semi sweet chocolate chunks (I used Enjoy Life)
2 tablespoons good quality cocoa powder (I used Camimo)
1 teaspoon powdered red food coloring (or more depending how red you want it)
1 teaspoon pure vanilla extract
Pinch of cinnamon (optional)
Crushed candy canes
For whip cream: I used light cool whip. You can also make your own whip cream or use coconut whip cream.
Directions:
Heat a skillet over medium heat and bring the milk to a boil. Add in chocolate and stir with a spatula until melted. Then add in cocoa powder, red food coloring and vanilla extract and stir until a thick and frothy consistency forms. When ready, pour the hot chocolate into two cups. Top with whip cream, cinnamon and crushed candy canes.