With only a few days left until Halloween, get into the festivities by curling up on a dark cloudy day with these Chocolate Chip Banana Muffins, a giant cup of coffee and a dark themed novel to suit the hallow-mood. These muffins are gluten & dairy free, contain no additional added sugars, and of course, simply delish.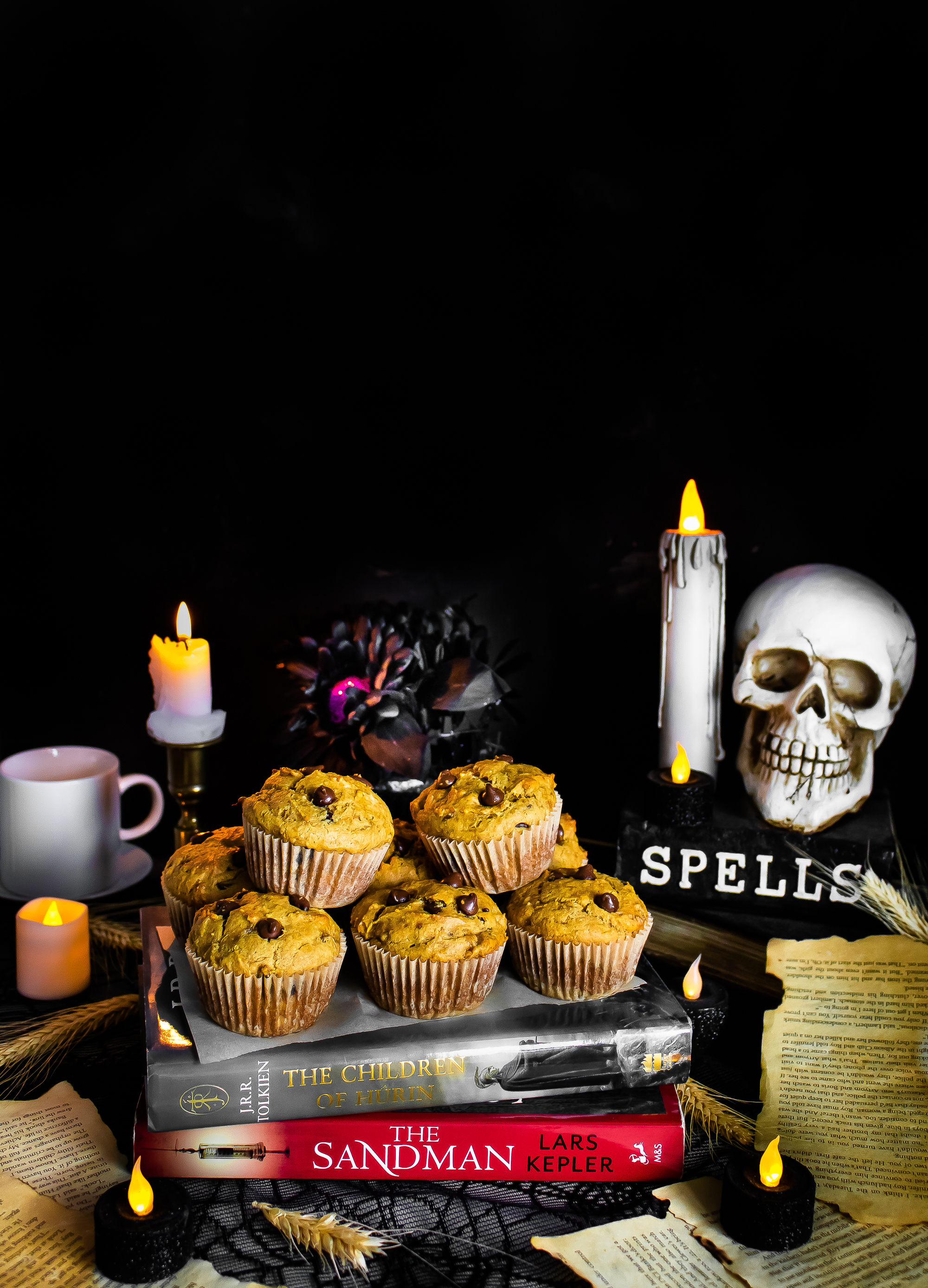 Oh boy do I love Halloween. It's literally my second favorite occasion (or holiday?), with my first being Christmas. I don't know what it is about this time of year that gets me so excited, but I'm guessing it's the ability to escape into my childhood memories of trick or treating, haunted houses, costumes, and of course, scary movies (Hocus Pocus anyone?)
I also find that Halloween is inspired by literature, which is quite fascinating. Growing up, I read every mystery novel I could get my hands on, like R.L Stine's Goosebumps and Fear Street, Harry Potter, and a lot of Stephen King and Edgar Allan Poe's books. Even now as an adult, I still enjoy a good scary mystery or thriller novel, especially during this time of year. Plus when a movie is released, especially if it's based on a book I've read, I get super excited and watch it 4 or 5 times, or more, because who am I kidding!?
Before I get too carried away with my deep appreciation for Halloween, I have to place the spotlight on these Chocolate Chip Banana Muffins, especially since it's the main focus of today's post. Other than pure deliciousness, these muffins are gluten free, dairy free and contain no additional added sugars, with the exception of the semi-sweet chocolate chips. There's no greater joy than indulging in a treat you feel good about, especially when they are so fluffy and moist. You can enjoy these with your morning coffee, a quick grab and go breakfast treat, or anytime you want to soothe your sweet tooth.  Happy Halloween! 

CHOCOLATE CHIP BANANA MUFFINS
Author: Valerie Azinge
Serves: 8 Servings
Ingredients
2-3 ripe bananas, mashed
2 eggs, whisked
⅔ cup almond butter (or peanut butter)
1 ½ cup almond flour
1 tsp. baking powder
1 tsp. Baking soda
Optional Ad-ins:
¼ cup dairy-free and semi-sweet chocolate chips (or carob chips)
¼ cup crushed walnuts, pecans or blanched almond slices for topping
Instructions
Preheat oven to 350°F and line a muffin pan with 8 parchment paper muffin/cupcake liners. Alternatively, you can use three mini 3x6 loaf pans to turn these into mini banana breads.
In a large bowl, combine bananas, eggs and almond butter. (For a smoother texture, you can puree almond butter and bananas in a food processor until smooth, then pour it into the whisked eggs in the bowl).
In a separate bowl, sift almond flour, baking powder and baking soda. Gently fold flour mixture into wet ingredients. Finally, fold in chocolate chips (or nuts, if using) until incorporated.
Use an ice cream scoop or ⅓ of a measuring up and fill the muffin liners with the batter. For mini muffin pans, use two ice cream scoops per pan. Bake muffins for 20 minutes or 25 minutes if using mini loaf pans until a toothpick inserted comes out clean.Let the muffins rest for 5 minutes before consuming.
Notes
These muffins can be preserved in an airtight container in the refrigerator for 4-5 days, or frozen for 1 month.