Apple pies are an essential part of a baking routine during thanksgiving, or any holiday. That's why these Caramel Almond Apple Hand Pies need to make it to your holiday table. They are dairy free, free of refined sugars and easy to make, not to mention super cute and delicious.
For pie bakers and pie eaters across the globe, apple pie is a universal staple dessert shared across hundreds of tables, were friends and family come together to celebrate the holidays with memories, laughter, and lots of food. So, instead of making a whole apple pie over and over again, switch things up and go mini. That way, everyone gets an equal piece of pie!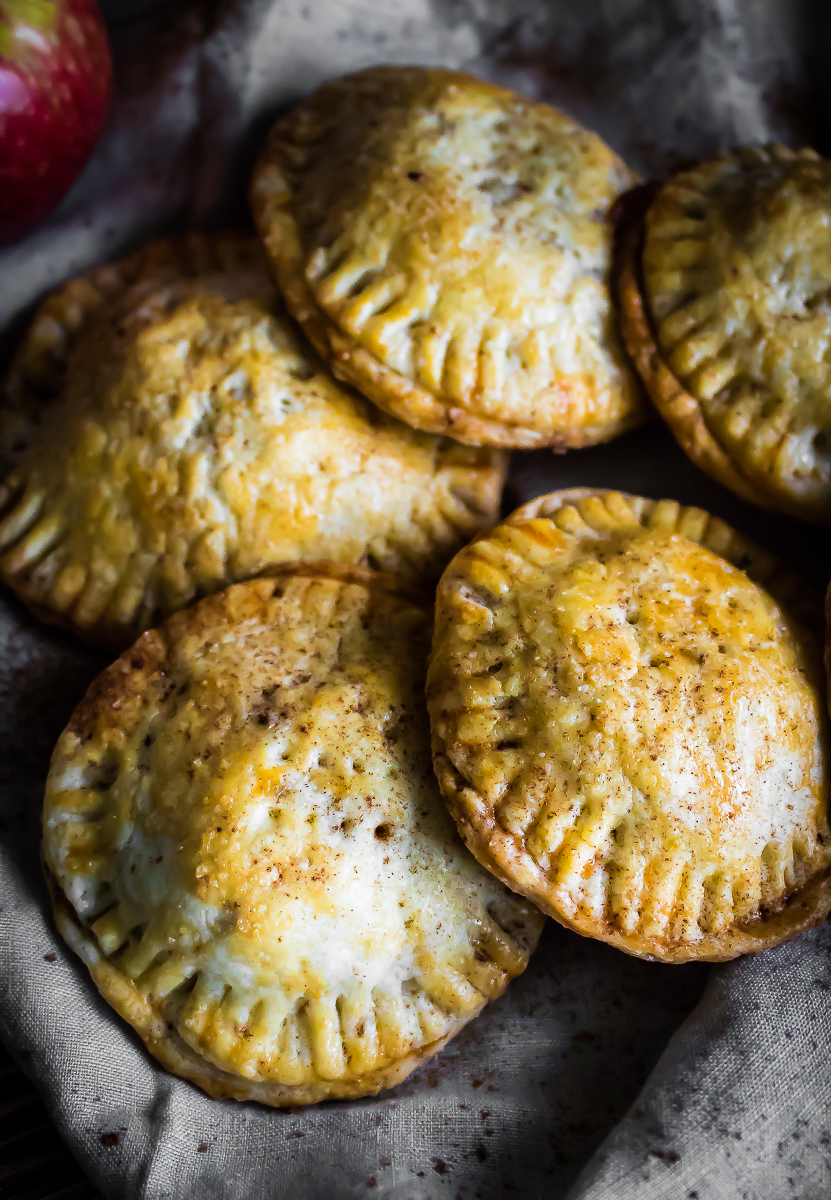 One of the best things (besides being super yummy) about these mini pies is how much healthier they are compared to traditional apple pies. For starters, they come in minis, which is great for portion control. Although, it's safe to say that some people aren't too concerned about portion control during feast-ful holidays celebrations. But for those who want to try a healthier alternative, these caramel almond apple hand pies are right up your alley. Happy Feasting!
CARAMEL ALMOND APPLE HAND PIES
Healthy & easy apple hand pies that will be a hit this holiday season
Author: Valerie Azinge
Serves: 6 Servings
Ingredients
Dough:
1 /14 cups light spelt flour, chilled
¼ teaspoon sea salt
1 teaspoon coconut palm sugar
½ cup coconut oil, room temperature
¼ cup plain coconut yogurt
2 teaspoons fresh lemon juice
¼ cup ice water
Filling:
2 medium apples, cored and diced
2 tablespoons coconut oil, melted
1 teaspoon ground cinnamon
¼ teaspoon nutmeg
½ cup natural smooth almond butter
¼ cup pure maple syrup
¼ teaspoon sea salt
1 large egg beaten for egg wash
Instructions
For the crust, add flour and salt to a large bowl and mix. Cut in vegan butter into the bowl and combine with a pastry blender until a coarse meal forms. In another small bowl, whisk together almond yogurt, lemon juice and ice water and add to the flour mixture. Using your fingers, mix in the wet ingredients until large lumps form before patting it into a ball. Cover the dough with plastic wrap and refrigerate for 2 hours or overnight. In the meantime, line a baking sheet with parchment paper and set aside.
Preheat the oven to 375 degrees F. place a small pot over medium-high heat and melt almond butter with maple syrup. Add salt and whisk until a smooth caramel consistency forms. Once bubbles start to form,turn the heat off and let it sit on the burner. In a large bowl, combine apples, coconut oil, cinnamon, nutmeg and almond caramel and mix until incorporated. Set aside
On a floured countertop, roll out the dough into a 12-14-inch round. Use a 3.5 inch round cookie cutter to cut out rounds from the dough, and re-roll the dough as needed. You should get 12 rounds.
Place 6 rounds on the lined baking sheet and add 2 tablespoons of filling into each round. Top the filling with the remaining dough circles and crimp the edges with a fork to seal them. Use the fork to poke holes at the top so that moisture does not get trapped in the dough during baking. Finally, brush the top and the edges with an egg wash. Place the pies in the oven and bake for 30-32 minutes. When ready, let it cool for 10 minutes on the countertop before serving.
Nutrition Information
Serving size:
6
Calories:
149
Fat:
17.2g
Carbohydrates:
27.5g
Sugar:
8.5
Protein:
1.8g