Fish tacos? Yes. Crispy Haddock Tacos with Spicy Lime Aioli? Hell yes! Fish tacos fried with air instead of oil? Say what? Thanks to the Chefman air fryer, I was able to make these crispy fish tacos with zero guilt and 100% flavour. Gluten free certified and pescatarian approved.
I love tacos, plain and simple. Fish tacos have always been my favorite. You get that crispy fish fillet sitting on a layer of crunchy coleslaw, drenched in delicious dressing and finished with a squeeze of lime, folding the sometimes toasted taco shell and biting into it with no shame and all the happy gains. What's not to love?
Well for starters, if you crave fish tacos all the time like I do, you wouldn't love the fact that the fish is often deep fried, I mean it has to be crispy right? So that's a bummer. Don't get me wrong, I definitely believe in occasional indulgences, but it doesn't hurt to opt for tasty substitutions that are made with better quality ingredients and are free of trans fats and bad cholesterol.
So my friends, thats where these yummy fish tacos come in. For starters, these haddock fillets are coated in almond flour instead of all purpose flour or breadcrumbs, which makes it paleo approved and also more nutritious.
Now for the best part, these crispy haddock tacos are air fried! For those of you who aren't familiar with air frying, i'll gladly break it down for you. An air fryer basically cooks or fries your food by circulating hot air around the food at a high speed, thus producing a crispy layer. All it requires is about 1-2 tablespoons of oil, which in comparison to other deep fried recipes that require over 1 quart of vegetable oil, the air fryer is a much smarter option. Enjoy these tacos as much as I did, but don't eat them all at once, because I did that too.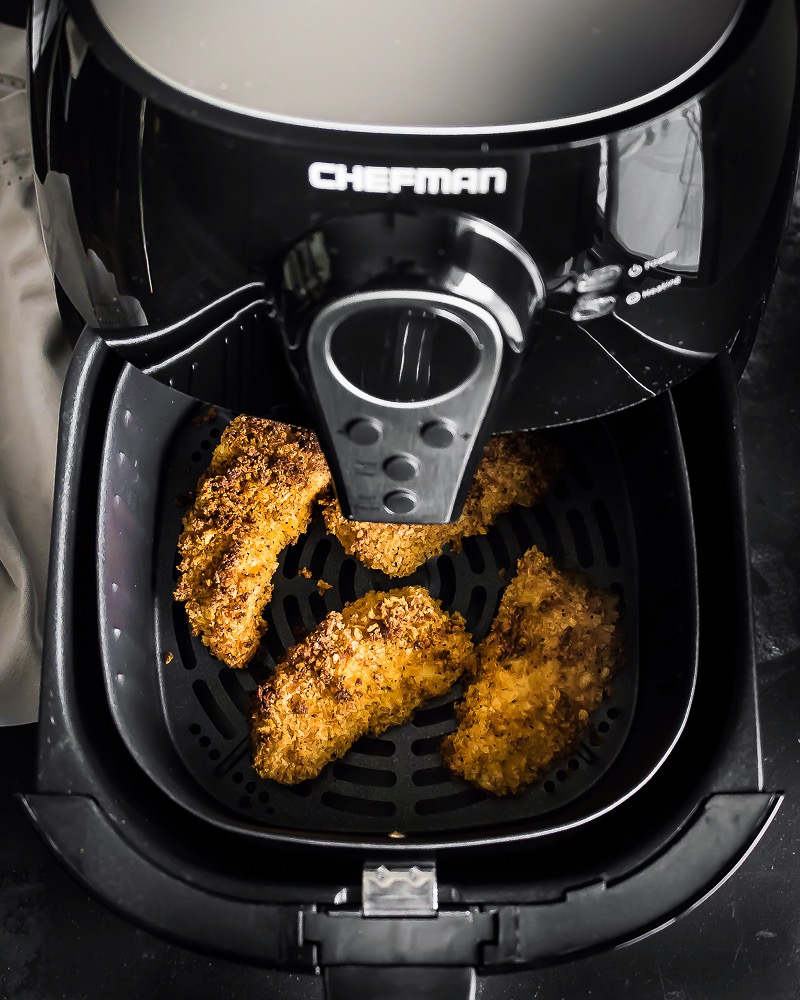 CRISPY HADDOCK TACOS WITH LIME AIOLI
Air fried crispy fish tacos made with gluten free tortillas and crusted with almond flour
Author: Valerie Azinge
Serves: 6 Servings
Ingredients
1 lb haddock fillets
1.5 cups almond meal/flour
1 free range egg, whisked
2 tablespoons olive oil
2 tablespoon Italian herbs
2 teaspoons organic onion powder
Salt and pepper to taste
6 gluten free tortilla shells, toasted
Aioli:
½ cup low fat mayonnaise
2 tablespoons sriracha hot sauce
1 teaspoon organic garlic powder
1 small lime, squeezed
Toppings: jalapenos, grape tomatoes, mixed veggies
Instructions
Place almond flour and egg in two separate bowls. Mix in olive oil, Italian herbs, onion powder, salt and pepper into the almond flour mixture. Coat haddock fillets in the, egg then in the almond flour mixture until fully coated. Set aside.
Preheat air fryer to 390 degrees F. Fry the fillets for 10 minutes. Blend aioli ingredients in a food processor and set aside. Layer taco shells with toppings and haddock fillets. Drizzle with lime aioli. Enjoy.
Nutrition Information
Serving size:
6
Calories:
346
Fat:
14g
Carbohydrates:
20.4g
Protein:
28g