Happy fun juice Fridays! Give yourself a boozy treat by ending your week with these fruity Strawberry Peach Mint Bellinis.
Woah what a week its been! I've probably started a lot of my posts with that statement but dang it it's the truth. After leaving my legal job at the firm a few months ago, I thought working from home would be much easier since I would have the luxury of working from my couch, sipping a giant cup of coffee, and occasionally peeking through Netflix during by "break" hours.
I mean I'm not saying I don't do that occasionally, but with the type of work I do now, I find myself working twice as hard and all around the clock. I'm either taking and delivering catering orders, updating my blog content, pitching emails to brands, working with brands, or doing it all and more! So you know what? I'm sipping on these boozy bad boys cuz I'd like to believe I've earned it. Cheers Friday! Boy did I miss you.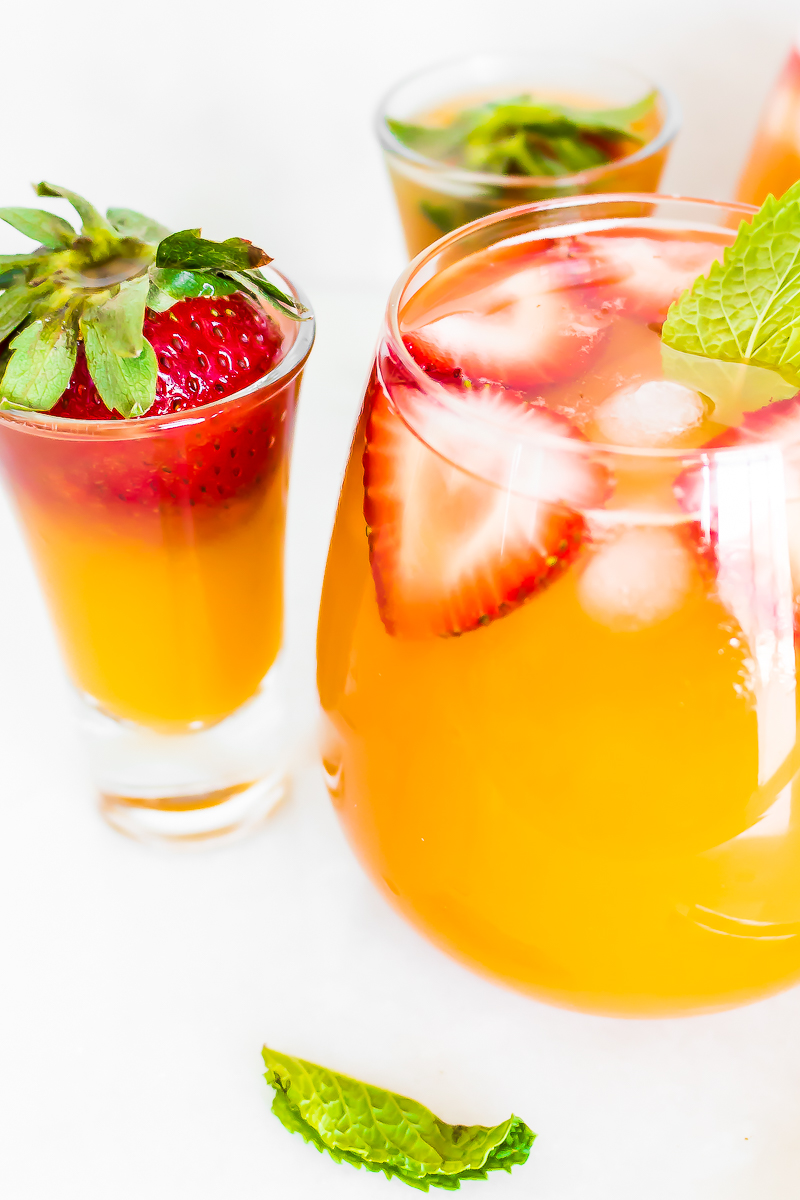 Most times when I'm out with my ladies and I order a bellini, I've always had them served frozen. Sometimes when I'm lucky I would get my frozen bellinis with a little candy frog on top and I feel like an adult kid…or a kidult…you get it. However, when I went to Cibo Wine Bar a couple of weeks ago, I ordered a traditional peach bellini and I got something totally different. The server placed two glasses of Prosecco infused with peach nectar on our table. Then I thought "wait a minute, this isn't what I ordered. I wanted a bellini, not a fancy mimosa."
Well, after being properly schooled by my dinner companion, I learned that a standard bellini is simply Prosecco sparking wine and peach nectar served in a champagne glass. However, frozen bellini can contain vodka, frozen peach puree and syrup. So although the peach flavors are similar in both, these two cocktails aren't quite the same! Anyways, the bellini I had was delicious, which is why I was inspired to create my own version with a slight minty twist. I find that the mint balances out the slightly concentrated sweetness you get from the peach nectar. So sit back, relax, and enjoy your weekend with these strawberry peach mint bellinis. Have an amazing weekend!

STRAWBERRY PEACH MINT BELLINIS
A Friday night or weekend favorite
Author: Valerie Azinge
Recipe type: Cocktail
Serves: 4 Servings
Ingredients
1 bottle Prosecco sparkling wine
2 cups peach nectar
2 drops mint extract (optional)
A handful of sliced strawberries
Ice
Instructions
In a punch bowl or large jug, add ice, Prosecco, peach nectar, mint extract and strawberries. Stir until all ingredients are combined and serve.