A light, easy and healthier dairy free pasta recipe, this Sage Mushroom Scallop Penne will be a weeknight hit on the dinner table!
The weekend is finally over, it's Monday, and it's starting to look a lot like spring. It was quite a rough winter, so I'm glad that the sun is finally back from its long vacation. But hey, regardless of how long and cold the winters can get, a good plate of pasta never seems to go out of style. However, with the gradual transition into spring, a lighter plate of pasta would seem more ideal on the body.
Think of it as a way to sort of "spring clean" your body from all the heavy winter indulgencies, and although pasta isn't exactly a remedy for detox, this sage mushroom scallop penne is loaded with light flavors and ingredients that will definitely put you and your body in a happy spring mood.
Scallops are one of my favorite seafood dishes. Being pescatarian, I like to believe that I can enjoy an endless selection of seafood, but the truth is, there's only so much seafood I can eat on a daily basis. Sometimes I don't crave my usual favorites like salmon or shrimp for weeks! I even go on vegetarian or full on vegan splurges (as I like to call them) for weeks just because I lose my seafood cravings. However, I believe that this can be a good thing because it pushes me to get creative with my plant-based meal recipes. However, this is all about scallops and pasta, so I won't steal your shine baby.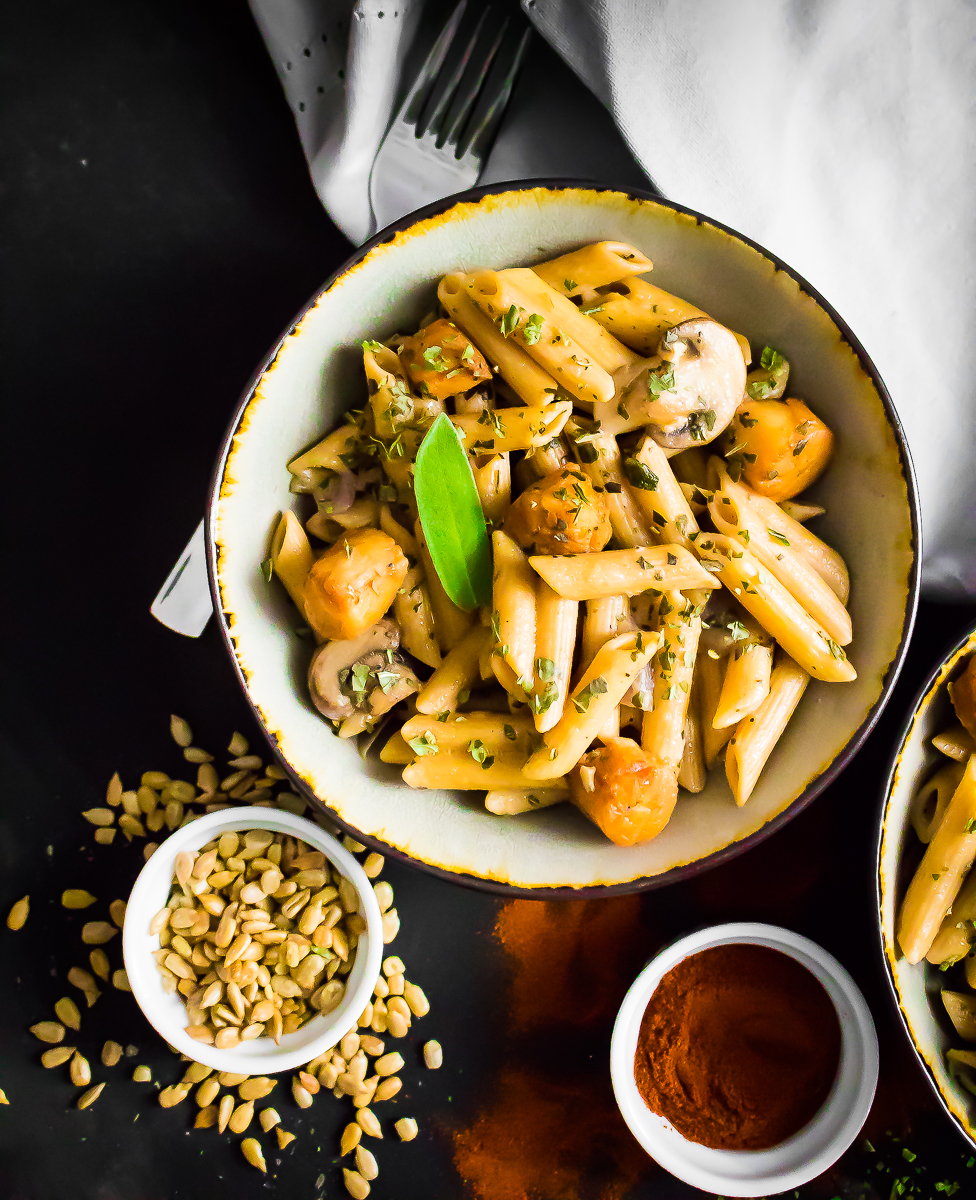 Although scallops are very easy to cook, it's very possible to overcook them. I always sear my scallops for exactly 2 minutes per side on medium heat to get it perfectly browned, while maintaining its tender and flakey texture. Let's just say, you want to add this sage mushroom scallop penne do your lunch or dinner menu!
SAGE MUSHROOM SCALLOP PENNE
A light, easy and healthier dairy free pasta recipe, this Sage Mushroom Scallop Penne will be a weeknight hit on the dinner table!
Author: Valerie Azinge
Recipe type: Dairy Free
Serves: 8 Servings
Ingredients
1 pack multigrain penne, about 150g, cooked
6 large cremini mushrooms, sliced
1 pack fresh scallops, about 150g
1 cup unsweetened almond milk
¼ cup white wine, like pino grigio
2 tablespoons pure coconut oil, or olive oil
1 tablespoon pure olive oil
2 garlic cloves, chopped
½ cup red onions, chopped
3 fresh sage leaves, chopped
¼ teaspoon sea salt
¼ teaspoon cayenne pepper
Instructions
Place a skillet over medium heat and add 1 tablespoon of olive oil. When the oil expands, add raw scallops and sear each side for about 2 minutes. Transfer to a bowl when cooked and set scallops aside, and using the same skillet, add 2 tablespoons of coconut or olive oil. Add onions, garlic, mushrooms, sage, salt and pepper and stir for about 2 minutes.
Add almond milk and white wine and cover the skillet. Simmer for 5 minutes, then turn the heat off. Add pasta and scallops and stir until all ingredients are incorporated. You may have some liquid at the bottom and that's normal, but the pasta absorbs it eventually.
Serve and enjoy.
Nutrition Information
Serving size:
8 servings,
Calories:
359,
Fat:
2.5g,
Carbohydrates:
32g
Protein:
12g