Ladies and gentlemen, my pie obsession continues with this delightfully delicious Cinnamon Apple Pie.
I hope everyone is having a great week so far. It is super cold right now and I mean we are in the single digits, which sucks. It even snowed last night! However, I do love fall, so no matter how cold it gets, I always enjoy the festivities of the season.
My favorite hobbies in October are eating pies, apple picking and of course, Halloween! I'm actually super excited for Halloween this year and even more excited about my Halloween party I'm throwing. But for now, let me enlighten you about this beautiful Cinnamon Apple Pie.
The first thing that stands out in this pie is the crust. Rather than a traditional crust made with all purpose flour, I used organic whole wheat flour to give it a healthy spin. I know that some of you might get nervous or even turned off by the idea of a whole wheat pie crust. Never fear though! Because I have a few tricks to making this recipe a tasty success!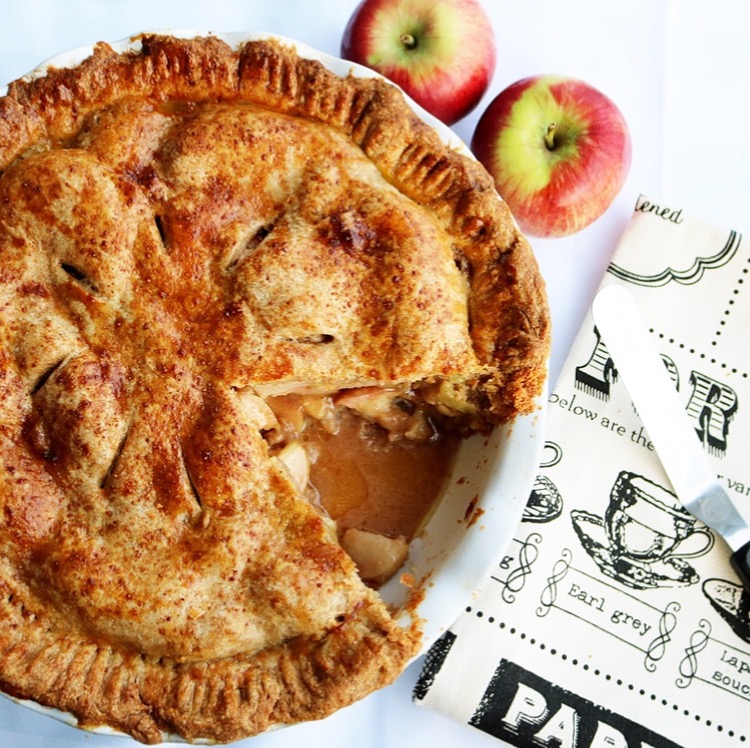 1. Using cold butter. Not coconut oil, melted butter or a vegan substitute, but cold sticks of butter. Whole wheat flour has a strong grainy flavor and a dense texture, which makes it quite easy to tell the difference between desserts or crusts made with whole wheat flour vs. all purpose flour. I find that using cold butter for the crust actually assists with making the crust smooth and flakey as well as toning down the strong flavor of the whole wheat crust.
2. Using ripe Cortland apples. The more red the apples, the sweeter the pie would be. Granny smith apples are commonly used in making apple pies and are good as well. However I prefer to use Cortland apples because I find that granny smith apples can be a little sour or tangy, and adding more sugar to the apples could make the apple pie too sweet. Using Cortland apples are totally optional.
3. Don't tell anyone its whole wheat. Seriously, what they don't know won't hurt them right? Except of course they have an allergy in which case you should definitely inform them of the ingredients used in your food. I served this Cinnamon Apple Pie to my cousins who visited me last weekend and they had no idea I used whole wheat flour. They just assumed it was healthy since I am a healthy food blogger. After I told my cousins I used whole wheat flour to make the crust, they told me I was smart not to inform them before they ate it because they would have been hesitant to try it! But then again, this was all that was left of the pie:
I believe that photo speaks volumes. Have a great week everyone!
Cinnamon Apple Pie
Yields 8 servings.
Level: Medium
Ingredients
Crust:
2 1/2 cups organic whole wheat flour
3 sticks cold, unsalted butter, cubed
1/2 cup ice water
3 teaspoons coconut brown sugar
1/4 teaspoon sea salt
Filling:
8 Cortland apples (or granny smith)
2 tablespoons lemon juice
2/3 cup organic cane sugar, plus 1 tablespoon for top of crust
1/4 cup brown sugar
1/4 cup brown rice flour (or any gluten free blend)
1 egg yolk
2 tablespoons room temperature butter
1.5 teaspoons ground cinnamon
1/4 teaspoon nutmeg
A splash of water
Directions
*When ready, preheat oven to 375º F.*
1. In a food processor using a metal blade or large bowl, pulse or mix your flour, sugar and salt together.
2. Add in cold, cubed butter and pulse.
3. Slowly drizzle in ice water, one tablespoon at a time. You should have a coarse, crumbly mixture. Before the dough has formed a ball, remove the blade and take dough out, bringing it together by hand. Form the dough into a disc and wrap in saran wrap and refrigerate for at least 2 hours.
4. In a large bowl, toss apples in lemon juice, flour, sugars, cinnamon and nutmeg. Set aside.
5. Once dough is cold, take dough out of plastic wrap and divide in half. Return one half in plastic wrap to the fridge.
6. On a lightly floured surface, roll your 1/2 of dough out into a circle, 12-14 inches round, about 1/4-inch thick.
7. Gently take the corners, lift the dough and transfer it to a 9 inch pie dish. Lightly press sides against the bottom and sides of pan. Trim overhanging dough so that you're left with 1/2-inch and fold excess under the edge of the pan.
8. Take second half of dough from fridge and repeat process of rolling it out to a 12-14-inch circle, 1/4-inch thick.
9. Pour apple mixture into the pie dish and cover the top of apples with pats of butter.
10. In a small bowl, beat your egg yolk and add a splash of water. Brush the edges of pan, covered by the dough, with egg mixture.
11. Cover the entire pie with remaining rolled out dough. Pierce holes in the top of dough with a fork to allow heat to escape (so there isn't a steam buildup inside the pie).
12. Seal the edges of the pie by fluting the dough (stamping the dough with a fork or your fingers) around the edge of the pie pan.
13. Brush egg yolk mixture all over the top of crust and sprinkle 1 tablespoon of sugar.
14. Bake for 50 minutes, or until crust is golden brown.