These Butterscotch Chocolate Chunk Cookies are an indulgent mouthful, just like the title!
Our Thanksgiving weekend is upon us! And for some of us, friendsgiving comes right before the real turkey festivities. These cookies make the perfect friendsgiving dessert because they yield a substantial serving. Also, everybody loves cookies.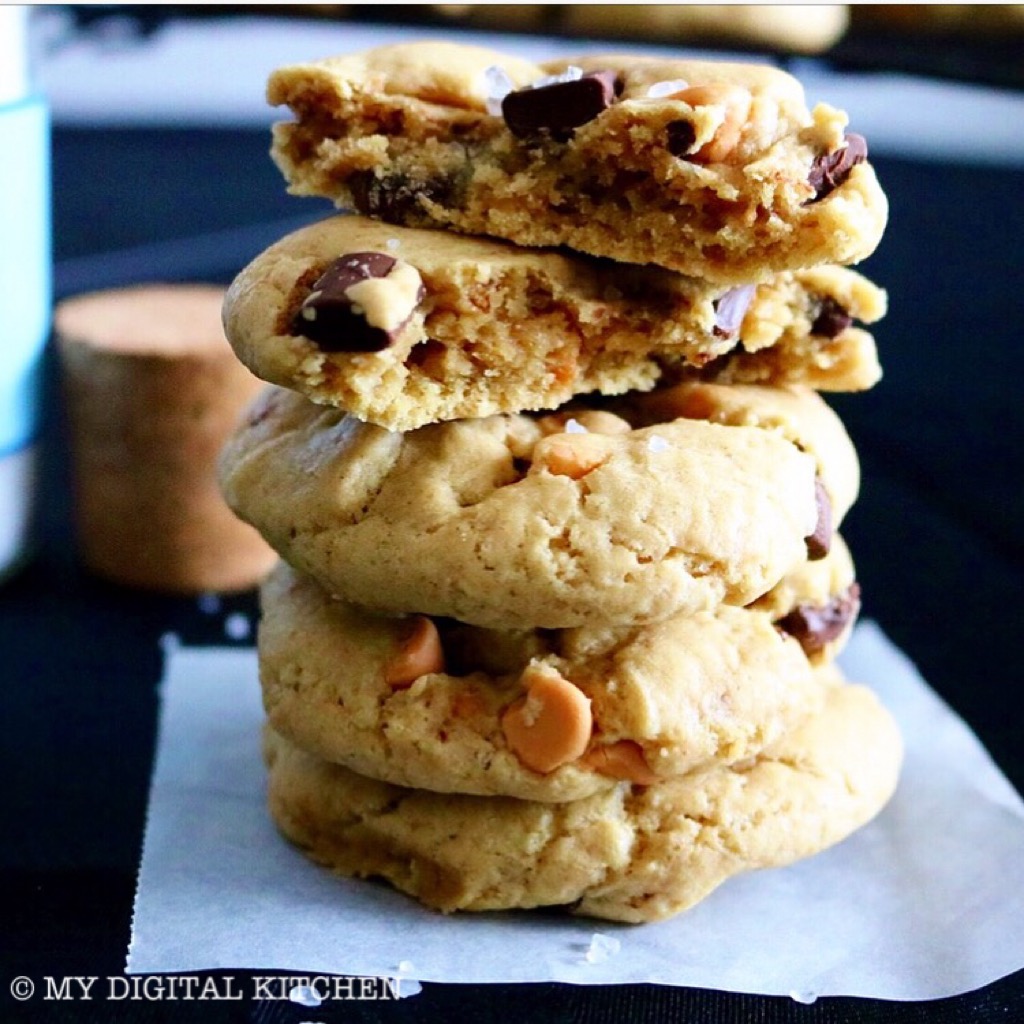 Let's face it; it can be a mouthful saying Butterscotch Chocolate Chunk Cookies. Heck you may even get tired or fall asleep halfway through the sentence. But when you sink your teeth into these cookies, everything changes. Although these cookies aren't exactly "healthy" on the calorie scale, they are worth every bite. After all, a little indulgence here and there doesn't hurt. Plus, it's Thanksgiving!
These cookies have been a hit with the crowd so far and that makes me happy. These butterscotch babies are also great for potlucks, themed parties or even care packages. I will also be adding these cookies to my catering page, so you will be able to get these delivered to your doorstep if you live in the GTA!
Ingredients: yields about 16-18 cookies
Dry Ingredients:
3 1/4 cups light Spelt flour
1 1/2 tsp. baking powder
1 tsp. baking soda
1 tsp sea salt
Wet Ingredients:
1 stick unsalted butter (room temperature)
3/4 cup light brown sugar
1/2 cup cane sugar
2 large free run eggs
2 tsp. pure vanilla extract
1 cup butterscotch chips
1 cup dairy free chocolate chunks
Directions:
1. Preheat oven to 350ºF and line a large 2 baking sheets parchment paper. Set aside.
2. In a medium bowl, whisk together dry ingredients. Set aside.
3. Using a stand mixer, combine butter and sugars together for about 2-3 minutes with the mixer on low. Add eggs and vanilla and mix until combined. slowly add dry ingredients, then stir in butterscotch chips and chocolate chunks.
4. Form the cookie dough into balls and place on the lined baking sheets, about 2 inches apart.
5. Bake cookies for 10–12 minutes or until edges are slightly golden brown. Remove from oven and let cookies cool on the baking sheet for 2–3 minutes. Transfer to a wire cooling rack and cool completely.
Recipe modified from The Pioneer Woman.