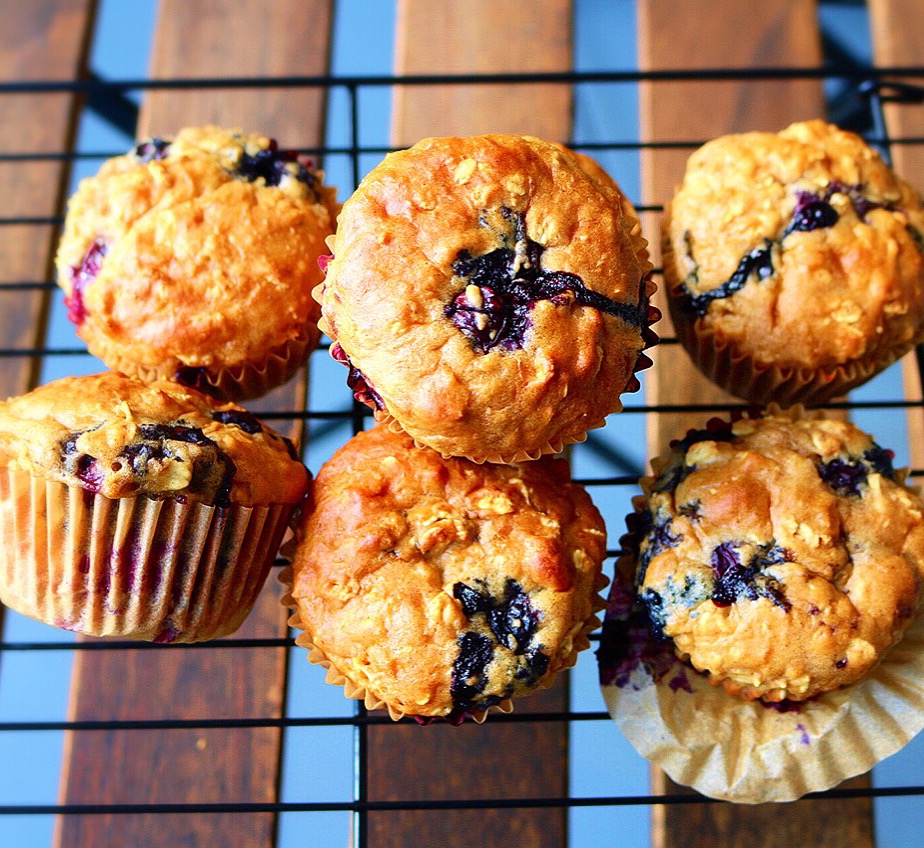 Blueberries are yummy, but oatmeal muffins have never been a favourite of mine…at least until I made these! but before I go on a rant, I hope everyone is having a great start to the weekend! I know I am, with loads of fun errands to run today in preparation for moving into my new place! However, sometimes I also find it difficult finding time to prep my breakfast every morning especially when I have a very early start, which is why these oatmeal muffins are a quick and easy breakfast source to grab when you're on the go. They are high in fibre and protein, plus they contain fresh blueberries which provide a fresh and natural sweetness. I signed up for a two month bootcamp which started last week, and I gotta tell ya, its kicking my butt and it's working, and although i'm on a modified diet, these muffins fit fight in because I get my fuel from the oatmeal and my protein from the Greek yogurt. All you need is one muffin…or two, depending on how hungry you are 🙂
Ingredients: yields 12
1 cup light spelt flour
1 cup gluten free oats (or old fashioned rolled oats)
1 1/2 tsp baking powder
1/2 tsp baking soda
1/2 tsp ground cinnamon
1/4 tsp sea salt
1 free run egg
1 cup fat free plain Greek yogurt
1/4 cup pure honey
2 tbsp coconut palm sugar
1/4 cup unsweetened almond milk
2 tsp pure vanilla extract
1 cup fresh blueberries
1. Preheat your oven to 350F and line a muffin pan with parchment paper muffins liners, or grease with oil. A non stick muffin pan is recommended.
2. In a large mixing bowl, combine the flour, oats, baking powder, baking soda, cinnamon and salt, then set aside.
3. In a separate bowl, beat the egg until it becomes slightly frothy. Whisk in the yogurt, honey, sugar, almond milk and vanilla, mixing until well combined.
4. Add the wet ingredients to the dry ingredients, mixing gently until just combined, then fold in blueberries.
4. Divide the batter among the 12 muffin liners or in the muffin tray.
5. Bake for 20-22 minutes or until the tops are firm and the toothpick inserted comes out clean. Allow the muffins to cool for 5 minutes on a cooling rack before devouring.
Recipe source: Running With Spoons