BLOOD ORANGE OLIVE OIL CAKE WITH LEMON CURD
Prep time:
Cook time:
Total time:
Serves: 12 Servings
Lemon Curd:
2 lemons (zest + juice)
⅓ cup golden monk fruit sugar
4 egg yolks
3 tablespoons grass fed unsalted butter
A sprinkle of sea salt
Cake:
4 eggs
⅓ cup pure maple syrup
¼ cup extra virgin olive oil
2 teaspoons madagascar bourbon vanilla
Zest and juice from 1 blood small orange (or ⅓ cup Grand Marnier)
⅓ cup coconut flour
⅓ cup + 3 tablespoons almond flour
½ teaspoon baking soda
¼ teaspoon sea salt
Prepare lemon curd overnight. Combine all lemon curd ingredients in a double boiler or glass bowl over a pot of simmering water. Whisk constantly until the mixture thickens and coats the whisk. Pour the lemon curd into a heat-proof storage bowl and cover with cling wrap, pressing down against the edges. Refrigerate overnight.
Preheat oven to 350°F and line a 9x5 loaf pan with parchment paper, or grease/spray the pan with oil.
In a large bowl, combine eggs, maple syrup, olive oil, vanilla, blood orange and zest and whisk until smooth. Sift coconut flour, almond flour, baking soda and sea salt fold into the wet ingredients. Batter will be quite thin.
Pour batter into the prepared loaf pan. Bake for 35-40 minutes, testing the batter with a toothpick. Cool for 10 minutes in the loaf pan, then gently turn out onto a wire rack until completely cooled. Top with lemon curd and additional blood orange slices. Serve.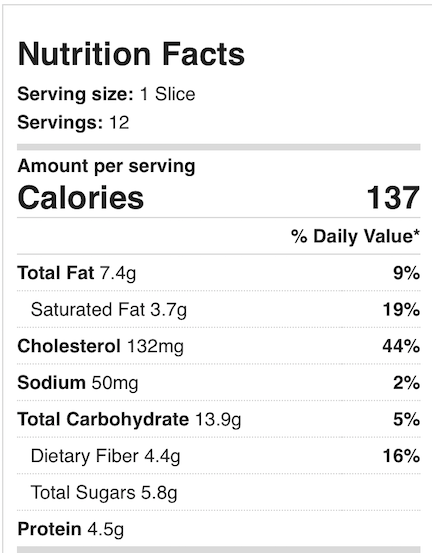 Recipe by
My Digital Kitchen
at https://www.mydigitalkitchen.ca/2019/02/12/blood-orange-olive-oil-loaf-lemon-curd/